Our first anniversary was last week and Scott had one request, we open a good bottle of port. We have a few we've been saving for special occasions and after the crazy year we had we felt like a that good bottle was deserved.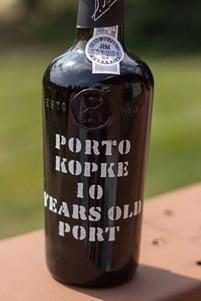 This retails for around $30 bottle and is a very traditional style port. Almost caramel in color with slight hints of fruit. I would say that this was better after being open for a few days. Scott is the port lover and would probably drink just about any port but did enjoy this quite a bit. I would put this in the ok category, but I am not the worlds biggest port fan.
I can say that I am looking forward to aging the other bottles we have to see how it affects the flavor.