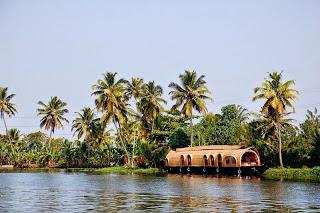 Another charming backwater station that is ready to take your mind, heart and soul all together
at the same time is Kollam. Kollam also known or anglicized as Quilon is a beautiful breathtaking backwater coastal city cited on the banks of the breathing Asthamudi in Kerala, it is a city that has captured the minds of more than thousands of great emperor, kings and business man.
 It is a peculiar backwater city that has never left anyone empty handed after her visit whether she renders comfort or memory that last for lifetime and that's the beauty and wonder of this place.
Kollam or Quilon is a prominent trade center of Kerala since time immemorial, it is a town and was the hottest trade spot pass hands by millions of traders trading goods with many of the Asian and European countries among them the Chinese, Arabs and Orientals with historical citations of trade dated back to biblical history have been recorded and are still sticking in the history of this town. 
Thus the place also offer numerous historical places, great monuments and temples for tourist amusement and so this is just to remind you that sightseeing in its interior town apart from backwater cruise and other enjoyments are also possible here like that of Alleppey and Kottayam.
The beach of Kollam is also another popular attraction you will find within the city, you take a snap for an hour or two relaxing under coconut trees that are decorated near the shore. The beach area is also a perfect ideal site to rejuvenate oneself; you can plan for a picnic or excursion next time when you visit the place. 
Yes there are lots you can do and see in this place yet the backwater is one of the best of them and so you cannot afford to miss its cruise if you happen to land here for weekend outing. 
The things or the attraction to see in Kollam backwater are those mention above there is no such unique attractions to see other than enjoying green picturesque ambience backdrop by numerous buildings, historical monuments and temples lying in and around the banks of the backwater still people love to sail and relish the inner enthusiasm of being away from noise and busy schedule city life to spend a day or two in peace amidst the serene ambience here is the main purpose for offering houseboat tours else everything that is of tourist interest lies within the city.
Still if you opt to go for a tour even to its neighboring places you will find numerous tourist places attach to the backwater and can be eye witness face to face. Some of the attractions are the lighthouse, Asthamudi Lake, Chavara, Adventure Park, Thangasseri, Rameshwara temple, Mayyanad, Sasthamkotta, Ochira, Kulathurazha, Thenmala deer park and some few sites are possible if you stay long and go for only backwater cruise holiday tour.
 And so if you wish to explore the attraction of places like Kollam you need a day or two to stay back and see the wonders existing around her, else you will end up with half hearted. 
There are numerous places to visit here you can take your time and visit time to time during your annual vacations if possible explore them all once in life time the incredible wonders this mesmerizing backwater town.