Most times, I am busy swarthing (my face) in ginseng and stuffing my belly with kimchi -items from Korea. On other occasions,  when I do manage to get my head out from the Korean cloud, my inner beauty junkie (well, I can't really say inner since it's so obvious) will venture forth to try on various non-Korean skincare products. such as this really popular one from Kiehl's.
Kiehl's Rare Earth Deep Pore Cleansing Masque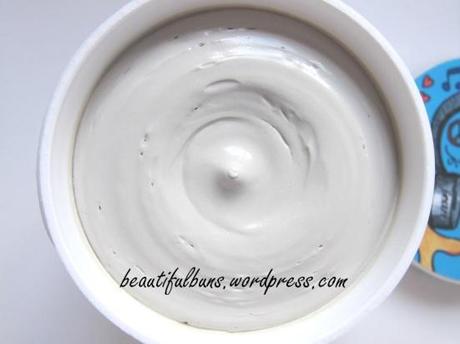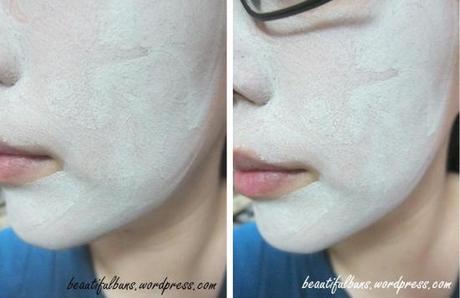 After it dries up – if you look closely, I'm pretty sure you can see an abstract form of a Van Goth there. No? muahaha.
I say…
It is a creamy mask that dries up in about 10-15 minutes, depending on how much you slather on. Me – I like to slather on a slightly-thicker-than-normal layer cos I'm convinced that it will suck out more dirt.
When freshly applied, there's a very slight tingling sensation, kinda like the type you'll get when you apply those AHA fruit acid sheets or a more astringent toner.
When it dries, there's a slight tightening feeling on your skin to indicate that it's ready to be washed off. Alternatively, just jab a finger to test.
It washes up easily and quickly with tap water – I use cold water cos I think it'll make my pores contract more. heh.
After usage, my skin felt smoother, as though a lot of the dirt had been sucked out and the pores declogged.
It also looked brighter (possibly due to all the dirt being sucked out. If you want a more obvious whitening / brightening effect, use either the IOPE Moisture Skin Soft Peeling Gel or The Face Shop Smart Peeling – White Jewel.
This is a more gentle way than the Biore Pore Pack to extract dirt, and great for a prep-me-up just before any big event you might be attending. I know it works cos my bro – who always finds masks a hassle – will sneak into my room to use this before he heads out for a company dinner / gathering.
This is more of a clearing/purging mask – it doesn't do much for hydration levels.
I might be a little late to hop on this bandwagon but heyyy, better late then never! Join me on this bandwagon tooooo