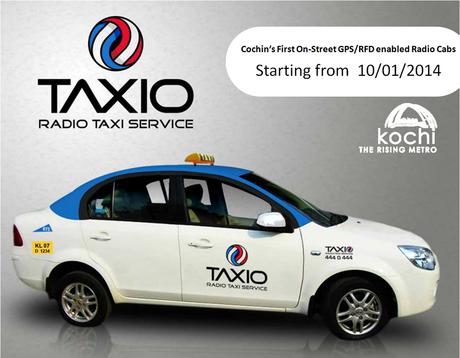 Kochi can now look forward to more travel options now with the launch TAXIO, a 24-hour radio taxi service. The service is launched by Kriserve, which has been operating a fleet of 30 GPRS-enabled cabs for the last 15 days on a trial basis. Anyone who wants a pick up can book a cab either by dialing 4440444 or through online services, which will be functional once the service is officially launched.
The service is widely used in other Metro cities in India. In this service passengers will be charged Rs 90 for first three kilometres and Rs 15 for every additional kilometre. After the trial run there will now include 20 more cabs to expand operations. During the next phase, the service will be extended to Kozhikode and Thiruvananthapuram. At present, cabs can be booked only for city services and there is no return charge.
The service will connect Fort Kochi, Panampilly Nagar, Kakkanad, Aroor, Tripunithura and other adjoining areas. Passengers can use the service to reach Cochin International Airport Ltd (Cial). The service has many features, including customer care service, GPS live navigation and emergency alert switch.
There are also 10 women drivers in the taxi service. In case of accident or any emergency, passenger or driver can press the emergency button and another cab will reach the spot in minutes.
Read Full story