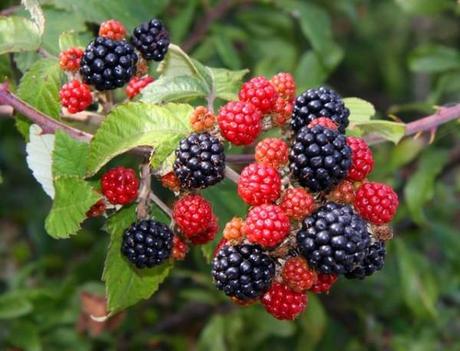 It's tough for the fashion-impaired among us to keep up with new styles, especially considering how quickly things change. (As soon as I realized all my jeans were supposed to be skinny, they suddenly needed to be a couple of inches above the ankle as well, to show off my socks or lack thereof, so here I am being un-au courant again).
Thankfully, keeping things trendy on your plate is easy, since fruits and veggies go out of  vogue every couple of months and nobody wants to be caught with last season's broccoli (weak pun intended).
So to stay ahead of boring regular people who consume normal food, Pacific Prime is here to give you our edible fashion advice on what superfoods to eat in September. And, much like the argument over whether or not men really should accessorize with scarves in summer, the definition of "superfood" is highly debatable but the bottom line is that all these vittles are definitely going to do you good. 
1. Dark Green Leafy Vegetables
Just like a well-fitted tweed blazer, there is always room for more dark greens in everyone's closet (or diet). While not likely to garner massive compliments at every turn, greens give a quiet confidence; the sort that comes with knowing that you look so slick that no one has to say it. With all this suave grandeur comes plenty of vitamins including Bs, C and E, but the real show stealer is vitamin K, which greens have in spades and help keep your blood moving, your bones strong, and your joints healthy.
Greens such as broccoli rabe, green cabbage, Swiss chard and Brussels sprouts also have a massive hit of good calories with an extremely low carb count, so you will have all the energy you need to burn for the day but none of the fear of needing to upsize your pants come winter. So boil, sauté, wilt or make soup out of them, and know that these greens are making you more glamorous this month, even if no one else knows about it.
2. Blackberries
Nobody wants to be caught using the digital device, but the edible variety should be a staple of your September scene. Blackberries are awesome because they have so much personality. Two identical looking berries can hang out at opposite ends of the flavor spectrum, ranging from super sweet to mega sour since blackberries love sunlight and the more rays each berry gets the sweeter it becomes. So, the ones who spend all summer in the shade will turn your mouth inside out, but the shock value is half the fun.
Blackberries are great in smoothies, blended up in iced tea, in a bowl of yogurt or cereal, with ice cream, baked in a cobbler (just don't overdo it with the sugar and butter) or in fruit salad. These berries earn superfood status because they are full of the antioxidant anthocyanin, and are a good source of vitamin C. Plus, the ladies will be happy to benefit from blackberries' phytoestrogens which reduce the symptoms of menstruation and menopause.
3. Runner Beans
The giant and sometimes considered not-worth-the-effort late harvested brother of sugar peas and summer beans, runner beans are all the rage in September. They are pretty fun to cook with too, since they are so robust and can take on lots of textures and flavors. Shelled, diced, or de-stringed and whole they can be stir-fried, steamed, mashed, blanched or eaten raw, and they work with almost any type of cuisine thanks to their mild flavor. As they are extremely cheap, runner beans are like haute food couture on a rummage sale budget.
In the nutrition department, runner beans are rock-stars too due to being extremely low in calories but packed with dietary fiber, vitamin A, vitamins B1 and B6, and essential minerals including iron, calcium, magnesium, potassium and manganese. There are also plenty of antioxidants in these beans to prevent cellular aging and keep free radicals at bay.
4. Pomegranates
The fruit that practically launched the entire superfood craze a dozen years ago returns to guard its title in late summer. So, if you're already missing those hot and sunny afternoons, crack open a pomegranate and soak up the end of the warm weather to savor these last fleeting moments.
Known for bringing the antioxidants like a free-radical-killing assassin, pomegranates are tons of fun to eat too, so long as your idea of trendy threads in September isn't an all-white ensemble. Sprinkled in salads, as a juice or a flavoring for spritzers or cocktails, in fresh desserts or even boiled down to make a jam or marmalade, pomegranates own the competition.
They also fight bacteria growth in your body, reduce cholesterol buildup, ease joint pain for arthritis sufferers, and keep you regular thanks to their polyphenol flavonoids, paraoxonase and dietary fiber. What's more, pomegranates are renowned for their cancer fighting ability, especially for those of us with a prostate.
5. Courgettes/Zucchini
Much like the tuxedo t-shirt, Mr. Courgette fits in at any event. In September, he is making his last round of the gastronomic party scene before the hard squashes steal his glory in autumn. So be sure to give him some love.
There is almost no dish that couldn't include or be improved by the addition of courgette or zucchini. Like any good social butterfly, a courgette picks up on its surroundings and fits in like a new best friend straight away. So grill them, sauté them, fry them, bake them, blend them up to go in muffins or bread, or just eat them raw, sliced wafer-thin, as part of a salad.
And as much as courgettes are friendly, they are healthy too. In particular, these veggies do good things for your eyes and your heart. With no calories to speak of they bring lutein to the table which is good for vision, vitamin C to prevent scurvy (excllent news for anyone planning an extended sea journey), and vitamin E and Omega-3 fatty acids that reduce cholesterol and break down body fat. Plus, there's potassium and magnesium to keep blood pressure in check.
So there you have it: how to enjoy the end of summer in style by welcoming over a few new superfood friends for a dinner party – and then eating them just to prove how trendy you really are.