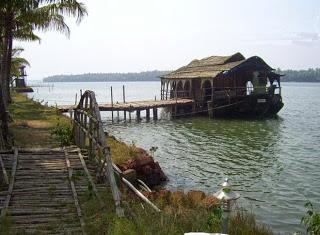 While there are many things that Kerala is famous for, the backwaters most often take
the limelight. There are several places in Kerala where there is concentration of backwaters. And while Cochin and Alleppey are two of the most popular choices in this regard, there are several other places which are lesser known but just as beautiful and captivating.
 Kasargod is one among them. In general, Kerala one of the most beautiful states in the country replete with some of nature's best gifts such as sprawling forests and meadows, towering mountains, sunny and sandy beaches and so on and so forth. 
Also, it is one of the most successful states in the country with one of the highest literacy rates. There are several people of fame and repute who hail from Kerala. Its tourism business is one of the most important factors in making it one of the most successful states in the country. 
Kasargod backwaters are no less in comparison to the other more popular destinations in Kerala. In this district of Kerala there are two primary destinations from where you can avail some of the most wonderful backwater tours and they are Valiyaparamba and Chandragiri. It is sometimes known as the land of seven languages and cultures. 
With some of the most beautiful palm trees and forests in the vicinity it makes the journey one of the most beautiful and memorable. There are several options to the tours that you can choose from. Two of those that are most sought after ones are the following. 
There are those that are for 4 to 5 days and also there are those that last for a week. In short, the longer the trip then the more number of destinations will be covered. Most of them go close to places like Cochin and Alleppey.
 They will take you to the sunset point from where we get one of the most wonderful views of the sunset. Some people, who prefer early mornings, like to go here to watch the sunrise as an alternate option. Also, the food is taken care of in the trip.
They serve you with some of the most wonderful food that Kerala has got to offer. Its proximity to the sea makes it one of the best sea food industries in the country. So prepare yourself for some of the most sumptuous fish curry, lobster fry, crab delicacies and coconut chutney that are made from spices that have come from the very heart of Kerala.
 In addition to the good food, one of the reasons that people go on this trip is because they appreciate the calm and the serenity that comes with the tour. It is one of the top destinations. 
Sometimes there are ayurvedic treatments and yoga sessions that take place in the boathouses. This is especially appealing to people who come from western countries such as the United States of America, the United Kingdom, Spain, Norway, and so on and so forth.