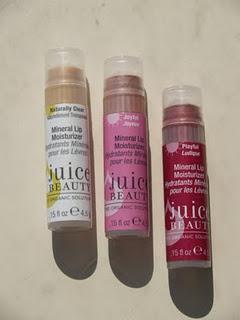 It's the time of year to stock up on everything SPF in preparation for what we hope will be a long, hot summer. It was with that in mind that I purchased this package of three SPF 8 lip moisturizers from one of my favorite brands, Juice Beauty. Like all the Juice Beauty products, they're organic and don't contain any harmful preservatives or other chemicals. At $16.50 for the lot, it's a pretty good deal.
It contains one natural and two coloured - Joyful is a pale pink and Playful is a warm berry. The only thing I'm not crazy about is that rather than being a glaze-type tinted lip balm, they have a coloured shimmer. I'm not so crazy about that - I don't tend to like anything sparkly or shimmery. I'm sure I'll still use them, though, as they're not highly pigmented and smell great.
Don't forget - for the next two days you can get 25% off and free shipping at Juice Beauty's online store by using coupon code FF2011. Happy shopping!


Ratings:




Packaging:

5/5


Product quality:

5/5


Worth the price?

As long as you like shimmery lip colour, then yep!


Would I purchase again?

No. Perhaps the clear one individually.
Cruelty-Free? Yes - and appears on PETA's Cruelty-Free list.
Where to find it: Juice Beauty online, Ebeauty online.