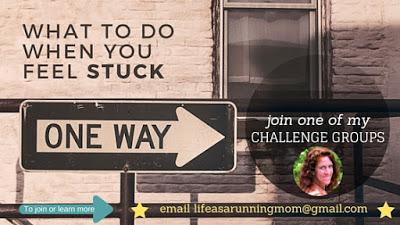 Oh me oh my! I am head over heels in love with fitness and realize, good nutrition is KEY to good fitness performance. Being active makes me happy and a happy me makes my house much happier. Plus, life is better enjoyed when happy, right?
Some of you may not know but recently I jumped in with both feet to be an online health and fitness coach. What took me so long to do this? I still offer online coaching for runners but have found, personally, that to be a better runner not only do I need to run BUT I need to fuel my body right (and what I thought was right wasn't the best right for me) and to cross train. And those things I was trying out of magazines --- well, they weren't working.
I am sure there are many others out there like me. Trying so hard to make forward progress but seeming to get nowhere. Goals are not being realized. You are just tired. You lose motivation. You stop and start like crazy and eventually accept that what you have is the best you can have at this point in your life. But I am here to tell you, don't accept those lies. We can all grow stronger, healthier, and better every single day.
That is my new mission/mantra --- #buildingabetterme #onedayatatime
Why? Because I want to help others overcome their bumps in life, just as I am overcoming mine...one day at a time.
With that said I have not one, not two, but THREE challenge groups slated for August. Yep, darling daughter is going back to school and I will be up'ing my own fitness and nutrition game right along you. Yes, I am in this with you!
Why do you want me as your coach? Because I get it. Because I have fallen down. Because I have failed. Because I have dusted myself off and found the tools to build a better me. Because I care about you. I mean really care. My prime drive for starting this blog was to motivate myself and others. Everything I have done and continue to do comes back to that core reason --- to motivate myself and others and I would be honored for you to join me. I am 100% positive one of these challenges will fit your needs and yes, each one will be personalized for you. No cookie cutter fitness and health. We are talking about what is best for you - your body, your current fitness level, and your fitness goals...and yes, these do change over time. We can work on that together.
Each client of mine also receives unlimited online support primarily through facebook but if you are  not a facebooker, I will work with you on developing our best "stay in touch" plan. I care that much!
So now that you know some of the nuts and bolts, what do I have up my sleeve?
First, I have TWO 7-day clean eating and shake challenges slated for August. One starts on the 1st and one starts on the 8th. To ensure you have time to get all your goodies for the challenge, the deadline for joining the August 1st challenge is July 23rd. The deadline for joining the August 8th challenge is July 30th.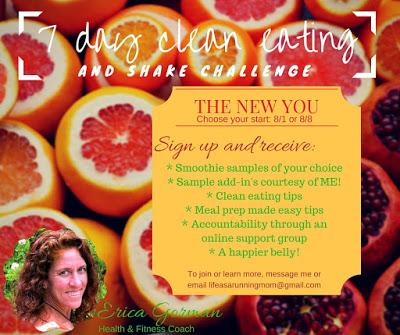 Second, I have one 21-day challenge starting on August 11st to end August strong. This is the perfect combination of fitness and nutrition. In a nutshell, you can think of it as an extension of the 7-day challenge as for all 21 days, you are eating clean and fueling your body well PLUS you are doing a daily 30 minute workout that includes cardio and strength (or another workout regimen that you personally select). The deadline for joining this group is July 31st.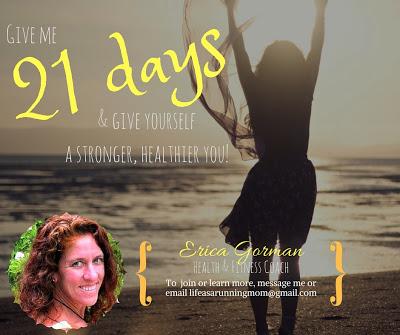 Call me crazy but if it were me, I would join the August 1st challenge group AND the August 11th group. Wait! That is EXACTLY what I will be doing as the host and your coach! Life is great!!! Won't you join me today?

Daily Gratitude: I am thankful God has called me to serve Him through helping others feel better about themselves and to find their inner strength and beauty.

Daily Bible Verse: Do not neglect to do good and to share what you have, for such sacrifices are pleasing to God. ~ Hebrews 13:16