So. If folks remember, my resolution for last year was to learn to make friends with food. By and large, this did happen. It's not perfect, but my relationship with food has come a long way.
For a few months at least, I'd been posting new — and at least self-modified recipes I'd tried for new foods. Then I sort of strayed away from that — though in my defense, not so much, really. What actually happened is that I tried a few additional recipes — bruschetta, something else, something after that — with very few changes from the original. And I didn't feel like reblogging something direct from someone else, without adding any commentary of my own, was such a great way to go for a blog post.
This month, however, I have something at least slightly more original. While I was probably inspired to this recipe by an amalgam of Internet browsing, this precise breakdown of ingredients does not come from anywhere specific — except the inside of my crockpot.
As it stands, the recipe contains meat — making it (obviously) not vegetarian or vegan. That said, one could fairly easily supply a meat substitute or possibly even omit the meat (though I cannot for sure say how this would work in terms of final product) to counter that if desired.
Sweet Potato & Turkey Chili
Ingredients:
roughly 1.5 pounds sweet potatoes
a pound-ish of white or yellow onion
3/4 pound of ground turkey or other meat or meat substitute
2 15-ounce cans of black beans
a couple of diced jalapenos (I leave the seeds in)
some cumin
a goodly heaping of minced garlic
Things To Do:
Chop the sweet potatoes into something approximating 1 inch cubes. This is a rough estimate, not an exact science. Put in the crock pot.
Chop the onion into somewhat smaller pieces. Again, approximately. This also goes in the crock pot./li>
Dice the jalapeno fine. Also into the crock pot it goes.
Brown your meat and/or prepare your meat substitute according to directions and/or common safety protocols. Note: For me, this includes salting the meat before browning. If this is not your practice, you may wish to add an additional 1/2 teaspoon — roughly — of salt to the overall recipe. Or not, depending on taste. When ready, add meat or meat substitute to crock pot.
Open beans, draining most of the liquid. Into the crock pot they go.
Sprinkle in a goodly amount of cumin. Add that much plus a little more garlic. Stir it all up.
Go away for 8-10 hours. (On low, the sweet potatoes will need this much time.) Do some chores, hang out in the park, read a book, have sex, attend a Mythbusters mini-marathon. Whatever. It's good to pick something where you can stir the pot every 2-3 hours or so.
Serve and enjoy as you will — with cheese as a garnish, bread as a side, or any other thing you might think of.
Leftovers freeze and reheat well.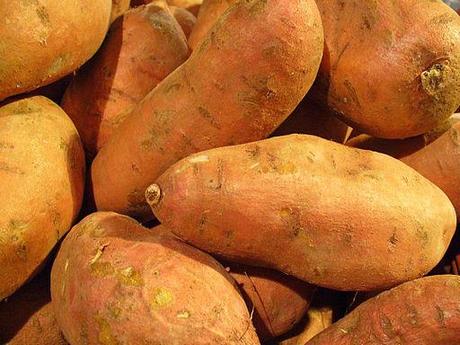 By Llez (Own work) [GFDL (http://www.gnu.org/copyleft/fdl.html) or CC-BY-SA-3.0 (http://creativecommons.org/licenses/by-sa/3.0)%5D, via Wikimedia Commons
My resolution for this year, I think, is to find an even wider variety of recipe staples — particularly seasonally appropriate recipe staples.