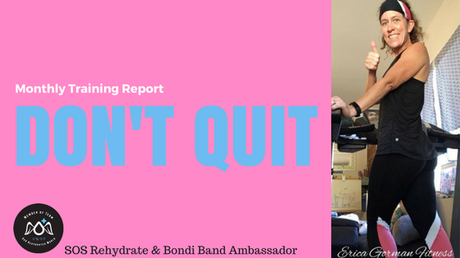 I am pretty happy to say I worked out a total of 26 hours in January. I know, at first glance that does not seem much but that is close to an hour a day so I am happy when I consider where I am coming from --- a very rough fourth quarter in 2017. I also logged 85 miles and 7 new workouts!
If I keep at this pace throughout the remainder of 2018, I will log 1,020 miles and 84 new workouts. My 2018 goal is to break 10,000 streak miles which means I need to log 1,170 miles in 2018 and that means....run more! And I am not afraid of that as I am getting my running mojo back. I can do this!
My other 2018 goal was to log 70 new workouts and I am completely on par for achieving that. Yay me!
Seriously, this is worth celebrating big time as I was in the toughest and longest rut in my running life but thanks be to God, I am finally feeling like me....even if the past couple of days I have felt unmotivated and overwhelmed but even that is my typical me this time of year as work is overwhelming and crazy. Seriously, directing a race is hard. Be kind to race directors. It is tiring answering the same question a zillion times of day and you would not believe the gripes and complaints I hear about everything and race day isn't even here yet. Hopefully this torrential downpour of rain that I have experienced three times in the past 24 hours will be something of the past come Saturday.
And a blatant, begging ask...if you are on Maui please contact me regarding volunteering at the race. I need at least 15 more course marshals. It will be really, really fun.
On a happier note, January (or very early February as all my days are a blur right now) brought some really exciting news. I can now offer you, yes you!, 20% off of your SOS Rehydrate purchases when you use my coupon code EGFITNESS. Yes, this is an affiliate link as I am an SOS Ambassador and LOVE their hydration -- mango and coconut are quite delicious.
You can also get 10% off of your Bondi Band purchases and they have more than headbands. They have Bondi Wear now too! Awesome outfits to feel amazing in your workouts. Guys, this is a great gift for the active gals in your life. Just use EGFITNESS (yes, same coupon code, different company, different ambassadorship).
But back to January and goals. I am also doing better at getting up and working out dark and early again. It takes some real determination and let me tell you, it is hard to get that determination at 4 am in the morning. If you have any tips, please let me know. I would love them! The lure of coffee and bible time helps but it is still hard to pull myself out of the warm bed when it is so dark....let alone thundering like crazy. I flopped this morning convincing my lazy self that running on the treadmill in thunder and lightning was indeed not a good idea. Ummmmm.....once I got to work I realized how much better I would have felt emotionally if I just did it. I will remind myself of that come tomorrow morning when my alarm starts chiming at 3:30 am. Wish me luck!
How did your January go?

Daily Gratitude: I am thankful for the 85 miles I logged this month.
Daily Bible Verse: 


Psalm 127 --->


Unless the 

Lord

 builds the house,




  

those who build it labor in vain.


Unless the 

Lord

 watches over the city,




  

the watchman stays awake in vain.




It is in vain that you rise up early and go late to rest,




eating the bread of anxious toil;




  

for

 he gives to his beloved sleep.

Lo, sons are a heritage from the 

Lord

,




  

the fruit of the womb a reward.




Like arrows in the hand of a warrior




  

are the sons of one's youth.




Happy is the man who has




  

his quiver full of them!




He shall not be put to shame




  

when he speaks with his enemies in the gate.