Wow, what a COLD morning we are having in Mississippi!  We are actually expected to get snow today – woo hoo!  Although… I'll still be in full swing at work, so no "snow" day for me.  Unfortunately, due to the winter weather, our first week of practice for Girls on the Run has been postponed until next week, which really sucks because I'll be out of the country next week.  I'm sad that I won't be able to meet my girls at their very first meeting, but I hope they have a wonderful time and I look forward to meeting them in a few weeks.
Although I'm so ready for this fantastic vacation and I can't wait to spend quality time with my cousin, I still have so much to do – I need to schedule my blog posts for next week, make sure the Mississippi Women Bloggers website is all set-up for the week, need to do some laundry, I still have to get through the next 2 days at work (with an audit later today!), and of course… there is the packing!  Oh, the packing… I love packing, but this is my first time out of the country and although I'm sure it's not much different, it still feels like a daunting task.  I also don't really have time to pack until Thursday night after work, so I'll be doing it last minute.  That's why I decided to go ahead and create my Jamaica packing list so I have a few more days to realize if I missed anything and then it should be pretty smooth sailing on Thursday night as I pull everything together.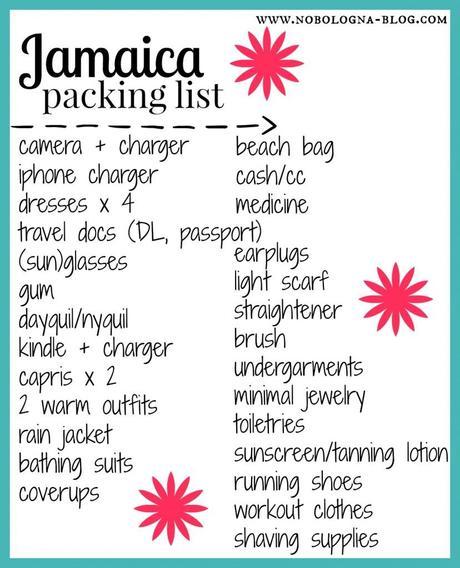 My cousin has been texting me all week about what she's packing so I think between the two of us, we'll be set for a good 7 days!!  My cousin is just like another sister and when we're together, we have no issues sharing anything & everything so if I forgot something, I know I can count on her to let me borrow whatever that may be!  She's also bringing all of her swimsuits so we can mix & match.  Hopefully the weather will cooperate enough for me to get on the plane and arrive safely – I'd hate for it to be delayed, but we're flying from Jackson to Charlotte, so I know the weather will be even colder up there when we land.
Brrr (seriously, it's so cold here!)…. okay, I'm off to work so I'm one day closer to beautiful & sunny & warm Jamaica!
What did I miss on my packing list?
Have you ever been to an all inclusive resort?  Any tips/suggestions for me?