Since the Twin Cities are really spread out, I often end up picking halfway spots to meet friends for happy hour. Jake's was my latest visit for happy hour with my friend Bobby, we both were coming from completely opposite ends of the metro and picked Eagan to meet up. Catching up over Jake's Amber Ale (it was pretty good and their own brand) pepperoni spinach and artichoke pizza and a BLT.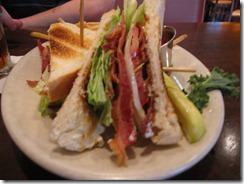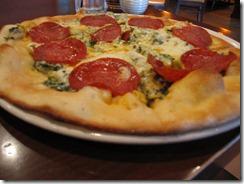 Laughing so hard that beer almost came out my nose, such a great look

We had fast service, our food was surprisingly good. But it is hard to screw up a BLT. The one negative was it was packed and really really loud. A very happy baby was making their presence known behind us so it was hard to hear at time. We survived and enjoyed our beers.
Jake's has a few locations throughout the Twin Cities and it worked as a halfway meeting point and a better option than a larger more bland chain.
I forgot to announce the winner of the giveaway yesterday, congrats to Alexa. I will email you for details!