This is a sponsored post. All opinions are my own.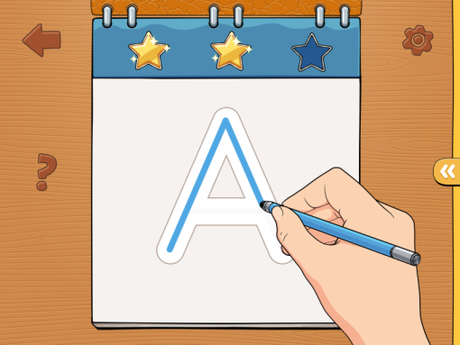 photo provided by iTrace
Developing Writing Skills with iTrace
As the mother of a child with profound fine motor skill issues I know how hard it can be to get a child to write their letters properly. This has been a huge struggle for Matthew. He has such fine motor skill problems that we have had to work for years with an Occupational Therapist and he still does not have very good handwriting. That is where an app like iTrace comes in.
What I think attracts me most to iTrace is the fact that it offers a reward to the child. This is very important because when something is hard, like developing muscle memory, many children want to give up. With iTrace you can see them strive to write the letter correctly and get their virtual reward. The instant reward means so much to them, even though it is no more than a gold star on the iPad. What also makes this a fun app and therefore keeps the child interested is the fact that it is on the iPad. I don't know about you, but in our home ANYTHING on the iPad is a good thing. My kids would do anything, even a non-prefered activity, just to get on the iPad. With iTrace they get something fun and educational, and it is on the tablet, really you can't go wrong.
One aspect of iTrace that I particularly like is that the child can either use their finger or a stylus. Using the finger first, on such large letters, allows the child to learn the correct formation of the letter. That is something that Matthew has a problem with, and since he has been writing for a few years now, it is very hard to correct. He tends to make certain letters incorrectly and therefore they don't look well formed and aren't always legible. With iTrace a child learns correct letter formation with their finger first. Then they can move on to the stylus if you want. That is a great way to reinforce letter formation and develop muscle memory. But keeping that in mind iTrace does allow for "multiple methodologies" of letter formation. An example is how to form the number 8. You can correctly form it as to circles perched one on top of the other, OR as one continuous line like the infinity symbol stood upright. Either are acceptable methodologies and iTrace will allow for either formation.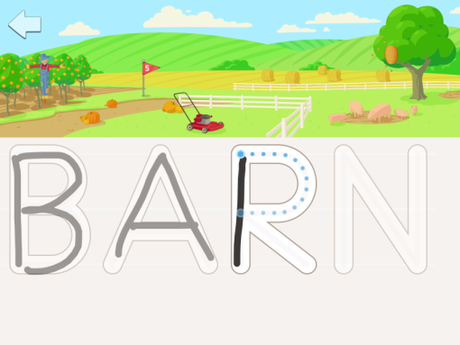 photo provided by iTrace
I also appreciated that iTrace can be easily switched to a left-handed app. For me that is extremely important as Matthew's left hand has always been stronger and that is now his dominate hand. Having an app that can accommodate that switch is so useful in creating that muscle memory and would allow him to be successful. It also makes it easy to switch back when another child wants to play with iTrace. iTrace supports multiple players and keeps a full history of each child's work.
Where to Buy iTrace
iTrace retails for $3.99 at the AppStore.