With the crazy few weeks we are having I needed quick dinners that made some leftovers. Between moving, my travel schedule for work, selling Scott's house, and our normal busy lives it left very little time for cooking.
Enter Italian Chicken Tenders, something I almost always have the ingredients on hand for (except for mozzarella, but sliced cheese could be substituted). Kind of like grown-up chicken nuggets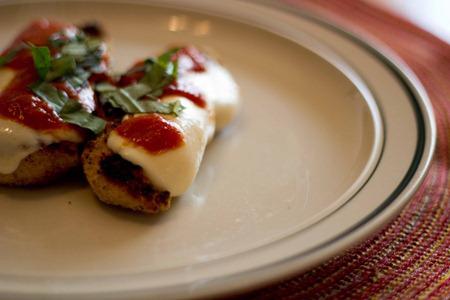 Dinner was ready in 20 minutes. Very little chopping involved and we had leftovers for lunches the next day. Meaning one less thing to worry about.
Italian Chicken Tenders
Prep Time: 15 Minutes
Cook Time: 10 Minutes
6022597
Ingredients (Serves 4)
1/4 cup flour, seasoned with salt/pepper
1 egg, lightly beaten
1/2 cup breadcrumbs or panko breadcrumbs, seasoned with salt/pepper
1 lb chicken tenders, seasoned with salt/pepper
Salt/Pepper
1 slice of mozzarella for each tender
1/2 cup marinara
3-4 fresh basil leaves, torn into bite sized pieces
Olive Oil
Instructions
Preheat broiler
In 3 small bowls, place flour, breadcrumbs and eggs in each of their own bowls. Using a tongs or fork dip chicken in flour, then egg, then breadcrumbs.
Heat large skillet over medium-high heat. Add chicken and cook 2-3 minutes per side. Remove from heat and set on a cookie sheet.
Place 1 slice of mozzarella on each chicken tender.
Place under the broiler until cheese is melted.
Top with warmed marinara and torn basil.
Powered by
Recipage