Good morning!  I've been MIA due to some sickness going around.  I think everyone is getting it, but I'm making that little emoji with the face mask on so I don't get everyone else sick.  It's been a rough few days and my marathon training has come to complete halt at the moment.  I didn't get my long run in last weekend and I'm hoping I'll be well enough to push through a long run this coming weekend!  Every day gets me closer & closer to this marathon.  Which reminds me that I need to book a hotel room.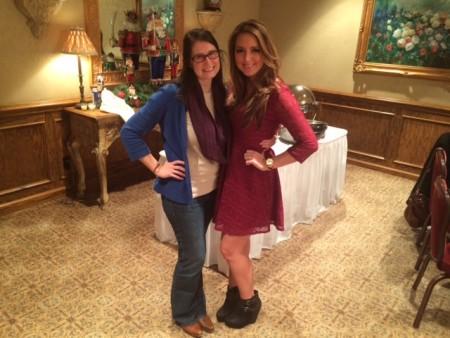 This weekend was a pretty great one, but I don't have a lot of pictures because I wasn't feeling up to par.  Friday was our work Christmas party and it was a lot of fun!  There were free food & drinks for 3 hours straight.  Then afterwards, a few of us went out together to Fondren Public, a local bar.  On Saturday, I spent some time with Nick and then ended up taking a long 3 hours nap – which I'm pretty sure was the first indication that I was getting sick.  After that, we met back up and went to Whole Foods for dinner and to pick up some wine to take to our friends house.  We ordered pizza, drank wine, and watched Naked & Afraid which is a ridiculous show!! All I know is that I would NOT survive… ever!  Nick could totally pull it off, but not me!  All the bugs & harsh conditions, plus the whole naked thing… not for me!  These people have to build their own clothes out of leaves.  If you ever get a chance to watch, please do!  It's very entertaining.  Most of the people who go in guns blazing, have to give up, and then the people you'd least expect actually survive the whole 21 days.  You don't actually see them naked, they blur it out, so if you get the chance, watch it!
On Sunday, I went to lunch with Nick's family and  then went home to rest some more.  I finally got up to go see Nick before he headed back up to Starkville.  We got some coffee, discussed some various topics we had on our mind and went to Whole Foods so I could get some grocery shopping done.  Then my sickness really settled in and I haven't really cooked anything I bought yet.  Luckily, I also purchased 2 frozen vegan lasagna's so that's been getting me through lunch this week, but I need to make chili tonight so I'll have leftovers for lunch tomorrow.
One other thing I forgot to mention… My dear friend Meg sent me a little happy for the holidays!!  She knows me so well, everything was wrapped in Disney themed wrapping paper!  I also got dDisneystickers and a mickey head wine stopper.  Seriously, I eye this wine stopper every single time I'm in the parks, but I never bought one for myself.  She also sent me a large box of Hershey's dessert recipes!  Holy Cow, so many recipes!! I think I'm going to make it my mission to transform the majority of these into delicious vegan recipes.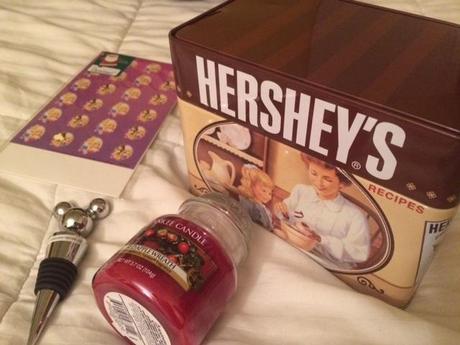 I'm still pretty heart broken that I didn't make it up North for Meg's wedding.  It was important for us to stay home at the time, but I'm looking forward to 2015 because I definitely see a visit in our near future!!
Here's to hoping I can feel better by tomorrow!