Remember last week when I told you guys all about the amazing website called Is That Odd? Well, I mentioned that I was waiting for my Indie Lee sample to arrive and yesterday IT DID! Yay!
I have never tried any of Indie Lee's products before but I have read numerous positive reviews and I keep up with the company on Facebook and Twitter. Every product is all natural and is packaged in simple but incredibly gorgeous packaging.
The company started back in 2009, on Earth Day, which to me is perfectly fitting. Indie woke up that day, FROM BRAIN SURGERY, and discovered that she had a potentially fatal tumor had been removed. She learned that environmental factors may have taken part in creating the nasty tumor. Indie vowed from that day forward that she would engage in a healthier lifestyle. She uses only the best all natural ingredients in her products because she believes that what you put on your body is just as important as what you put in it.
I love all natural products. I do find that they can be a bit hit or miss though. Sometimes they rock so hard that I cannot live without them. Other times they fail miserably. Shoddy formulas, products that expire before I can use them or they smell horrid. Whatever the case is, they don't rock.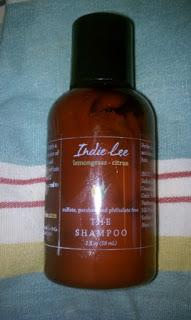 So the shampoo! Like I stated before, all of the "samples" I have received from Is That Odd have been full size. While Indie Lee's shampoo was not full size, the bottle is a generous 2 fl oz. It should last me about three to four shampoos. I have chin length hair though. So if your locks are long and luscious you may only get two to three uses out of it.
It smells heavenly. I am a total sucker for anything lemongrass though. What a great way to wake up in the morning. Bright, sweet citrus in the most perfect way. It smells so real that I could taste it. Fragrance has a weird way of taking you back to past experiences. Magically conjuring up memories of good times. This lemongrass scent took me back to a date that I had with my now husband years ago at a delicious Thai restaurant. Ahhh.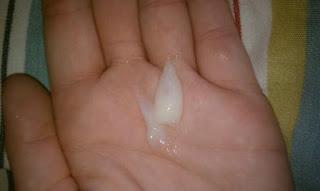 The formula is fantastic. Thick and lathered well. Most importantly my hair felt squeaky clean and soft. Not stripped and straw like. To say that it added fluff and bounce to my hair is really awesome for me since as you all know (if you follow my blog) my hair is baby fine. I love this shampoo and will look at purchasing when I run out of all of the other shampoos I am working my way through. (I am a product hoarder.)
I also want to mention that my fellow beauty blogger Tiffany, creator of You're Pretty Beautiful, recently chit chatted with Indie! Lucky lady! Check it out!
Meet Indie Lee by visiting her website, like her Facebook page, or (and!) follow her on Twitter.
For those of you who missed my post on Is That Odd, you need to read it now! Check out their website, like Is That Odd's Facebook page and follow them on Twitter.
Have you ever tried Indie Lee's products before? Tell me all about it!