Review of:
Illamasqua Nail Polish in Hemlock
Price:

£14.50

---

Reviewed by:

newwithhashtags

Rating:

4

On

October 10, 2013

Last modified:

October 10, 2013

---

Summary:
More Details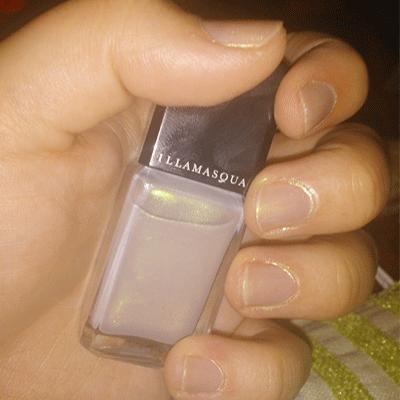 Illamasqua isn't a cheap brand, but what you can expect in return is quality. After trying a nail polish of theirs in shade Swinger (gold), I decided to try another by venturing into their store just off of Carnaby Street. The shop assistants coloured my nails in pastel, neon and glitter nail polishes, but the one I settled on was Hemlock (although deciding on just one was extremely difficult!).

Hemlock is a pale shimmery pearl-like white. Although it can be used by itself to give a slight flash of colour, I prefer to use it as a top coat. Applied on top of darker colours it appears slightly green, and on lighter colours it's slightly pink/grey. It makes both light and dark nail polishes more pale and shimmery. Using it by itself and applying multiple layers leaves nails looking slightly gray and dirty so I wouldn't advise this.

As mentioned in my review for Swinger, the Illamasqua nail polishes dry quickly, are well pigmented and easy to apply. The applicator isn't very wide but it's more than sufficient, and the bottle contains a decent amount of polish to last you a long time. The best thing about these polishes is definitely the longevity; particularly in the non-metallic shades. They just last and last, and they typically don't chip easily. Added on top of other less chip-resistant polishes enhances their staying power too; great news for those who don't have the time or the inclination to touch up their nails every couple of days!

Coming in at £14.50 a pot, these polishes aren't cheap, but they are reliable. There's a great selection of colours and there are sometimes sales so you can get their polishes at a really reasonable price. I'm super fussy, and I'm blooming impressed with Hemlock, just as I was with Swinger!