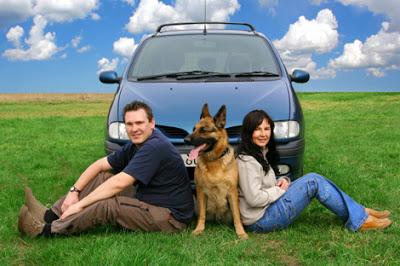 If you are planning to take a trip with your dear pet, then there are plenty of things to keep in mind. Traveling with your pet can be both a wonderful experience and a troublesome experience. Traveling with your pet requires a good planning and preparation. The prior things that you should keep in mind while going on a trip along with your pet, are your pet's temperament, physical impairments and if the pet suffers from any kind of illness. Finally, if you have made up your mind to take your pet on a trip, then you got to follow some common tips that will help you make your journey enjoyable.
Preparation before Your Travel
Healthy Start: A sick pet while traveling is a disaster. So, you got to take your pet for a medical checkup and make sure that your pet is fit and fine with all necessary vaccinations. If you are traveling with your pet across state lines, then you got to make sure to obtain a health certificate and a certificate of rabies vaccination from the veterinarian.
Plan for Restraint: Make sure that you have proper plan to restrain your pet in your vehicle. It is a very serious element while traveling with a pet. Every year, hundreds of pets are killed or injured while traveling, because they are let free in the vehicle. It even leads to damage to property and human life, as at times drivers get distracted due to the excited pet roaming freely in the car. Vehicle pet barriers, pet seat belts, pet car seats, and pet travel crates are perfect ways to keep your pet and you, safe while traveling in your vehicle. It is also important to familiarize the pet with the vehicle restraint for a good period before travelling, so that it does not get irritated with the sudden introduction of the various kinds of restraints.
Temporary ID Tag: Many a times, pets do run off during the stoppage while traveling. A temporary identification tag, along with a photo of your pet will ensure the safe return of your pet. Attach a temporary ID tag on your pet's collar along with their permanent tag. Include the address and phone number of your destination along with your cell phone number and your email address, on the temporary ID tag of your pet.
Packing Essentials: While packing for your journey, include an abundant supply of pet food. Do not rely on stoppages to get the pet food as they may not have the particular brand of pet food that your pet takes. Other essentials to pack for your pet include water bowls, bedding, litter and litter box, leash, collar and tags, grooming supplies, any necessary medications etc. Do keep in mind to take ample supply of water for your pet.
Medical Records: It is advisable to carry your pet's medical records, in case of any medical emergencies while traveling.
While on the RoadNo Heads out: Many pets are fund of sticking out their head out of the window, while on a road trip, to let them do so, is not safe. Your pet may get injured while sticking their head out. Make sure that you keep the window closed on the side your pet.
Regular Stopovers: Do provide frequent bathroom and exercise breaks to your pet. Most travel service areas include areas for walking your pet. Make sure to stay in this area, especially when your pet needs a potty break, and bring along a bag to pick your pet's potty.
The Food Intake: It advisable to feed your pet at regular intervals to a minimum intake while traveling.
Safe and Comfortable: Whatever method you have opted for to restrain your pet in your vehicle, make sure that the pet is comfortable. Their favorite blanket or travel bed will make them feel at ease while on a long trip.
Follow these simple tips to keep your pet safe and comfortable, while making your journey an enjoyable one along with your pet. 


Ref:

  http://www.thecalifornian.com/article/20131127/LIFESTYLE/311270028/?gcheck=1