I splurged and gave myself a holiday present by going pro on my virtual mission because I thought the added features could be fun and bring some life to my mission to run from Hawaii to Nebraska!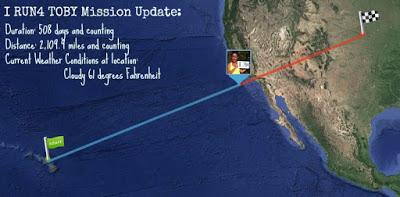 Why Nebraska? Because that is where Toby lives! I started my mission on our match day -- July 27, 2014. Every day I run and every mile goes to my virtual mission to run to him. It is fun to see the miles add on with new meaning and I can't wait to get over land and see some sights! The time on the big blue Pacific Ocean is wearing me down. It took hardly any time to get from Maui to the ocean but boy, that ocean is big!! It makes me ponder when people traveled by boats. What a journey they must have had! But one would imagine that got to their destination a lot quicker than I am BUT I am lucky to not be confined in a boat battling with potential stormy conditions and seasickness. 
I would LOVE to write more. I have at least three blog posts in my head ready to be written and posted. As much as I thought this week off of work would give me more time I completely underestimated how long baking can take. I baked for 7 hours yesterday! Oops...that may make a fourth blog post. My 2015 holiday baking list and recipes! Perhaps my 2016 New Year's Resolution should be to get better and scheduling my blogging time!
Merry Christmas and God bless!
Daily Gratitude: I am thankful for vegan fudge.
Daily Bible Verse: 

For to us a child is born, to us a son is given; and the government shall be upon his shoulder, and his name shall be called Wonderful Counselor, Mighty God, Everlasting Father, Prince of Peace.

~ Isaiah 9:6