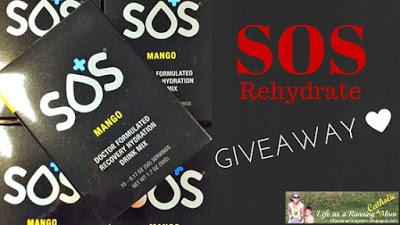 To celebrate counting down the days until I meet Toby I am giving away some SOS Rehydrate. In a mere 26 days I will be able to hug my buddy but in a mere 2 weeks one of you, yes you!, will receive samples of SOS Rehydrate. I have three sticks on my desk right now - berry, citrus, and mango - and you can receive this taste test pack to choose which flavor is your favorite.
Why am I doing this? Because I love you! Because I love to give and share! And because SOS Rehydrate keeps me "rehydrated" on my run and has eliminated the need for me to turn to salt tablets on my longer runs AND keeps my tummy happy.
What are you waiting for? Enter the giveaway now to keep your tummy happy and your body rehydrated!
a Rafflecopter giveaway
 
And just recently, I have found the means and the way to get even better with a health and nutrition program that keeps me energized and yes, stronger! Do you have goals that you are trying to reach? I just may have the answer, even if it is just only added accountability, to keep you on the road to success. Learn more HERE.
Daily Gratitude: I am thankful for SOS Rehydrate and Beachbody.

Daily Bible Verse: And he said to all, "If anyone would come after me, let him deny himself and take up his cross daily and follow me. ~ Luke 9:23


This giveaway is hosted by Life as a Running Mom, who is personally providing the prize. Entries are open to the US only. The giveaway ends on June 8th and the winner will be contacted via email. If the winner does not respond in 3 days, a new winner will be selected.