Before you dig into this post I just want to warn you that it is a bit lengthy. I am going to talk about my favorite skin care brand and my recent adventures with a few of their products. Since I am so smitten with them, I have a lot to say. So get comfy, grab a snack, and enjoy!
NUDE Skincare was started by Bryan Meehan after he had a conversation with his good friend Ali Hewson (otherwise known as Bono's wifey). They decided that they needed to create gorgeous, effective skincare products that were different from the natural skincare products on the market. People needed, and wanted, a natural skincare line that was luxurious and delivered results they could count on. After consulting with laboratories and scientific experts, they brought to life a line that uses all natural ingredients which can be safely metabolized by the body. In addition, they implemented airless packaging in order to keep the use of preservatives to a minimum.
I love NUDE and what they have done for natural skincare. I have been trying for so long to find something natural to put on my face. So often I find myself disappointed with what I find in stores. Most of the "natural" products end up not being natural at all. Or worse, they are all natural but do not provide any results. These crunchy, hippy products look great on paper but I need something that actually works. That is why we buy skincare products isn't it?
So a few months ago I got an email explaining that NUDE was looking for twenty-five people to become NUDE Citizens. They were preparing to launch their Advanced Cellular Renewal Moisturizer. I jumped at the chance and was so excited to be chosen as a NUDE Citizen. I was able to try the moisturizer and in return, would provide NUDE with feedback about my experience. My results have been amazing and I will share them with you below. Also, recently I won a prize on my friend Claudia's beauty community she runs on Facebook. My prize included a small package of NUDE samples, and I will talk about each one and how much I loved them. By the way....if you love beauty and love a community of people who do nothing but talk about beauty, you should check out
Claudia's page
! Claudia is a fellow Beauty Collection Blogger, super knowledgeable when it comes to all things beauty and her nail art expertise is something serious. She has giveaways on her page frequently and there is always something new to explore. Claudia also has her
own blog
! I highly recommend getting acquainted with her and all that she has to say.
Okay. Here we go. My review of NUDE Skincare!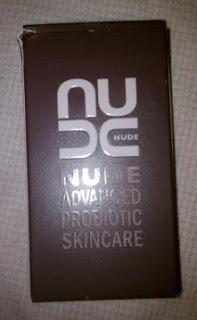 The packets came in this box.
My NUDE packet contained their Cleansing Facial Oil, Miracle Mask, Age Defense Moisturizer and Advanced Eye Complex.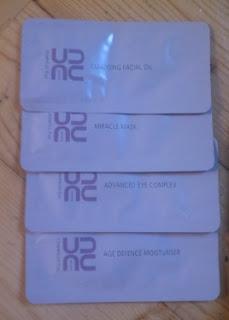 These are large packets and I expect to get two to three uses out of them!
NUDE's Cleansing Oil was designed to remove makeup and pollution without stripping your face of moisture. Omega-3's and Vitamin E work together to purify and protect skin. I know that when I mentioned the Cleansing Facial Oil you gasped. Did I really say oil and why on earth would I put oil on my face? I get it. But stay with me.
The Cleansing Facial Oil is exactly that. An oil. It looks and feels like an oil. I stood there for a minute staring at the oil in my palm and debated. Was I really okay with putting oil on my face? This goes against everything I have ever been told about skincare. Oil is BAD and needs to be whisked away ASAP. I gave in and continued on, I love NUDE, and I didn't think they would steer me wrong. Massaging the cleanser on my face felt just like you would expect it would. It felt like I was massaging oil into my skin. It smells heavenly. Very floral, but super lovely. After you massage the oil into your skin you are supposed to put a small amount of warm water into your palm and massage (am I using massage too much?) it onto your face until it forms a milky texture.After doing this, I rinsed. Oh my God. My face was so soft! It looked radiant! There was not a trace of oil on my skin. Color me amazed because this product exceeded my expectations and with one use I am addicted!
The Miracle Mask contains natural alpha hydroxy acids which lightly exfoliates skin. The product was made to revitalize skin and leave it luminous and glowy. Those two things are something I am always after. Never satisfied with my skin's luminosity or glow I was most excited about trying this product. According to instructions, you are to apply the mask and leave on for five minutes. Perfect for me since I am so
impatient and hate waiting around twenty minutes for a mask to dry. The mask itself is a really thin gel, borderline liquid. It feels almost like a serum, and you cannot see it on your face at all after applying. I waited five minutes and took the mask off using a warm washcloth. The results were astonishing! I have NEVER seen my skin look so good, so fast. Luminous is exactly the right word. Also rosy and glowy. Everyone needs to have this product in their arsenal. It's fast and easy and actually works!
Formulated with milk peptides, the Advanced Eye Complex works hard to stimulate collagen production and and firm skin. Acacia instantly lifts skin, reducing the appearance of fine lines and wrinkles. As I have stated before in this blog, my under eye area is always dry. I apply eye cream a few times throughout the day to manage dryness. This eye cream felt smooth going on, there was no irritation and my under eye area felt moisturized. A few hours later I realized that I still felt moisturized and had no desire to apply more of the cream. My eye area looked instantly better, in a concealer optional kind of way. Another fantastic product.
Meant to be used as a daily hydrating formula, the Age Defense Moisturizer also contains milk peptides to reduce the appearance of fine lines and wrinkles. In addition, Capuacu, Manketti and Orchid Flower oils immediately soften the skin. The moisturizer was rich and creamy and absorbed instantly into my skin. This kind of worried me. I really don't like light moisturizers since I always feel dry and usually when something absorbs instantly, I end up reapplying because I still feel tight and dry. This didn't make me feel that way though. It got the job done and moisturized perfectly. Not too much, not too little, just enough. Later in the day I touched my face to brush a hair away or something and was shocked by how my skin felt. More often than not, somewhere midday my skin gets oily. When I touched my face there was no oil. Just silky smooth skin. My face felt velvety, like powder. Now I do not know if this is something that the moisturizer is supposed to do but it happened. I continued to be amazed by NUDE.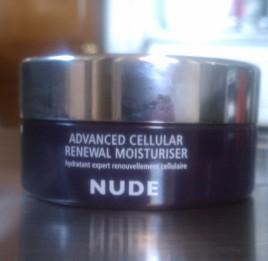 Behold! Gorgeous packaging!
Finally I am going to touch on my experience with NUDE's brand spanking new Advanced Cellular Renewal Moisturizer. This product completely blew my mind. Hands down one of THE BEST moisturizers I have ever used. It was created to reveal luminous, younger looking skin. It's main ingredient, Chinese Immortal Grass Complex corrects the signs of aging. I know that ingredient sounds fancy and maybe a little bit make believe but after reading all of the literature that was provided with the moisturizer, I am a believer. The jar that it comes in is made of purple glass and just picking it up feels like an indulgent treat. The cream itself is super rich and smells like Jasmine. I love Jasmine and the smell of the cream made it feel like that much more of a luxury to use. Applying it felt amazing. Soft and cushiony, it absorbed quickly and left my skin soft and hydrated. Over the course of a few months I noticed that my skin felt softer, looked better, clearer. There was this overall glow that lasted all day. I love this product and would highly suggest it to everyone. I use it morning and night and have achieved fantastic results.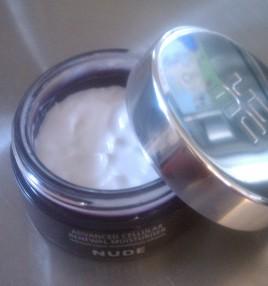 This is after two months of day and night use. I am just barely  halfway through it!
I understand that NUDE's products are a bit on the pricey side but consider this. How much do you spend on skin care products that do nothing? How many times have you finished up an anti aging product and looked in the mirror and thought, that was a waste of money? With NUDE you are getting all natural ingredients, luxury packaging and formulations that do what they claim. It's not a waste of money. It's an investment in your skin. Discover what NUDE offers today and I promise you will not be disappointed.
Have you tried any of these products? What was your experience? I would love to hear your thoughts and am curious if anyone has tried anything else from their line. I have my eye on the Facial Scrub.
All of these products can be purchased at nudeskincare.com