The weirdest thing ever happened to me yesterday.
I was at home minding my own bizness when someone knocked on the door. I opened it and I was faced by one of my neighbors (who I have never talked to) and a black puppy. She released the dog into my house and was laughing, saying that she found her in the road and just wanted to bring her back. Like she was a big hero.
And I guess she would have been a big hero
if the dog had been mine.
 I don't have a black puppy. I have a large horse like German Short Haired Pointer and a plump little Pug.
I grabbed the pup by the collar before my dogs caught a glimpse of her and explained to my kind neighbor that it wasn't my dog but I appreciated that she was "bringing her back". To which she replied that she had to run to pick up her kid from school and fucking left. That's right. She left the dog and me standing on my front porch, mouth open. As she peeled wheels away from my house I dragged the dog into my backyard. She was cute but man was she skinny. She didn't look like she had been lost long and was relatively clean. I called my husband. He advised me to drive around the neighborhood to see if there was some distraught person walking the streets with a "I Lost My Dog" t-shirt on. I hung up, grumbled and hopped in the car.
After getting home the sweet dog was still outside. It was starting to rain. I needed to make some decisions. I didn't know how my dogs would react to her or how she would react to my dogs
and
my toddler. After checking her for fleas, I nervously brought her in and she happily played with my herd. Toddler loved her and she loved my toddler. Relief flooded over me. Husband came home from work and he loved her. She really is a super awesome dog. She spend the night cuddled up with me in bed. I felt my heart strings pull just a little.
This morning I hung fliers and searched the neighborhood. I walked her around hoping she would take me to her people. We ended up at the vet where they scanned her for a microchip and BAM....she had one. Hooray! The vet gave me the info and we headed home. I called the microchip folks and they told me that her name is Rosaline and that she is a black lab/pit bull mix. They called her owners and left them a message with my name and number. That was around 1:00 p.m. today and I still have not heard anything. I am hoping that they are just at work and have not yet come home to the great news their answering machine holds.
So yeah. Until I hear otherwise I have a new dog. I have shortened her name to Rosie because Jesus is Rosaline a lot to say. Secretly I love her and hope her owners never call. But three dogs is a lot and maybe things would be better if they did. Either way I am so happy she is here and so sad that she might have to go.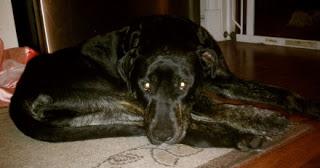 Rosie
Also, I want to change her name to Dinah.