That's right. I found it. After many years my quest is complete. What's that? You have no idea what I'm talking about? Of course you don't. But I am going to share my secret with you. Come close. Closer....
I FINALLY FOUND ONE HAIR PRODUCT THAT DOES EVERYTHING I NEED IT TO AND ACTUALLY WORKS!
Sorry for yelling in your ear. I'm excited.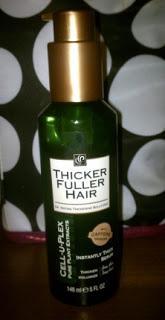 The product is by Thicker Fuller Hair and it is called Instantly Thick Hair Serum, A.K.A., Perfection in a Bottle.


I tried to research the brand but the website was pretty bare bones. But I can tell you that I have seen this brand in drugstores for years. I always pass it by when picking up hair products, look at the title, and think yeah sure. I had never read any reviews or seen any press about the brand. I am an avid researcher when it comes to beauty products. I like to know that someone, somewhere has had a great experience with a product before I consider purchasing. So I never gave Thicker Fuller Hair a chance.
Then one day while I was browsing my local drugstore, I saw that the Instantly Thick Serum was seriously marked down. Originally $6.99 it was on sale for $3.98. At half off I would be willing to give it a shot, and if it didn't work whatever. It was $3.98.
The formula was designed to enrich the hair shaft to build body and strength resulting in "incredible volume". Caffeine, the star ingredient, props up hair strands and invigorates and energizes the scalp. Their special Cell-U-Plex, a blend of plant extracts, infuses the hair shaft and instantly adds body.
Sounds awesome right? I was sold but still very skeptical.
I am going to give you the short version of my hair struggles so you can fully understand my excitement. I hate my hair. Naturally wavy, not in a beachy Victoria's Secret model kind of way, but in a truly unfortunate kind of way. When I let it do its thing it is flat on top and wavy on the bottom. When I blow it dry and flat iron it it's perfectly straight but super flat. Just awful. I have never met a mousse, hair spray or gel that does anything. I laugh in the face of volumizing shampoos and conditioners. Hanging upside down to blow dry my hair doesn't work either. I am left with flat hair and furiously throwing products in the trash while saying things my children shouldn't hear.
So I wasn't expecting much when I started using this.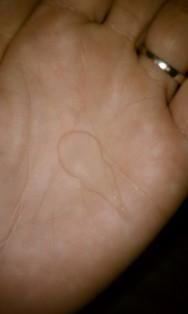 The serum feels like a serum. It's light and gel like but not at all sticky. Per the instructions, I applied the serum to wet hair, roots to ends, and blew it dry. Nothing happened. Damn. I did not notice volume but it DID make my hair soft and shiny and frizz free. In addition, my locks were not weighed down. Usually if I use product in my hair halfway through the day it looks gross and weighed down. I even tried it when I let my hair dry naturally and my waves looked awesome! Still no volume but just beautiful, smooth waves.
So I kept using it. Day after day. After a few weeks I noticed that when I was washing my hair it felt fuller. Then I noticed that after I styled my hair it looked fuller. I am happy to report that after a few weeks of use my hair is not only shiny, bouncy and frizz free, but there is definitely more volume than before.
The thing that puzzles me is that the product claims to INSTANTLY add body. It said nowhere on the bottle that it would take time. Do I care? Not at all. If it works it works. It just took some time. I will absolutely repurchase this item, even if it is full price. When I run out of my current shampoo and conditioner I am going to pick up Thicker Fuller Hair's shampoo (which comes in a moisturizing and revitalizing formula) and conditioner. There is also a Weightless Volumizing Hair Spray and a Root Lift and Bodifying Spray.
If you have fine limp hair and are tired of products with empty claims I highly suggest you pick this up.
Have you tried anything from this brand?
Thicker Fuller Hair can be purchased at your local drugstore.