I am sitting on my comfy couch drinking a glass of Chianti and watching the Opening Ceremonies on TV. For those of you who missed it, you missed a wide range of entertainment from Paul McCartney to the Queen to David Beckham to future British Olympians to Mr. Bean. Yes, Mr Bean. lol. Remember that guy? Like a lot of Mr. Bean. He seemed to have gotten a few laughs.
With a budget of a reported $43 million, director Danny Boyle (from Trainspotting, 28 Days Later and Slumdog Millionire) put on a pretty cool show. Months of rehearsals and apparently over 10,000 volunteers and David Beckham's hair didn't even move during the boat ride with the torch.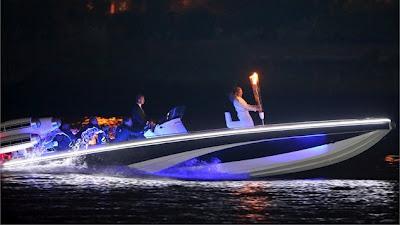 David Beckham riding on the boat with the torch.
My favorite part is watching the athletes walk out or the "parade of nations". There is such an energy in the air. Everyone is so full of excitement and enthusiasm for what the next 17 days will hold. I always learn a little about geography during the parade of nations, I love learning about all of the different countries.  Fun fact: Canadians first appeared at the Paris 1900 Olympic Games when George Orton won the 2500m steeplechase. He also claimed the bronze in the 400m hurdles.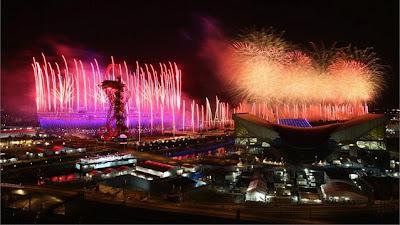 Picture of the Opening Ceremonies
The events I love include gymnastics, swimming, diving, track & field, rowing and them all.
Click
here
 if you would like to actually see a schedule of the events, when they are and when the medals are awarded.
Here is a list of my Canadian Olympians to watch for!
1. Canadian trampolinist Karen Cockburn has won three Olympic medals, a total she hopes to add to at the 2012 Olympic Games in London.
2. Canadian boxer Mary Spencer claimed gold at the 2011 Pan American Games and will be looking to continue her domination in London's ring.
3. Eric Lamaze hopes to replicate his winning performances from the Beijing Olympics, though he'll have to do it without his gold medal horse Hickstead, who died last year.
4. Three-time Olympic medallist Adam Van Koeverden is still among the favourites in the kayak events.
5. Divers Jennifer Abel and Emilie Heymans are just two members of a talented team of Canadian divers that stand a good chance of reaching the podium in London.
6 Canada's Paula Findlay has been a force on the international triathlon circuit and is one of the country's top medal hopefuls.
7. Shot putter Dylan Armstrong missed the podium in Beijing by one centimeter. He'll be back with a vengeance in London.
8. Priscilla Lopes-Schliep, seen here winning a 2010 Diamond League race, is one of Canada's track favourites despite taking time off to give birth last year.
9.Cyclist Clara Hughes, who also competes as a speed skater in the winter games, needs just one m ore medal to become Canada's most decorated Olympian.
10. Simon Whitfield, who is also Canada's flag bearer at the opening ceremonies is a two time triathlon medallist. He will also be the keynote speaker at the Opening Ceremonies at Can Fit Pro in August in Toronto.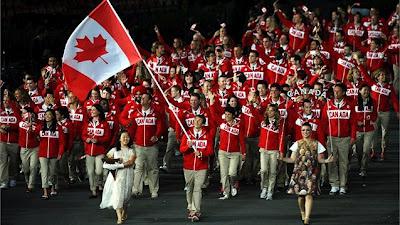 Team Canada. 2012.
So proud.
All in all I was pretty impressed with the opening ceremonies. They had some unique parts, for example they had future Olympic hopefuls from Great Britain carrying torches and embrace past actual Olympians from Great Britain. That was a nice touch, super symbolic. I am now just looking forward to watching some of my favorite events. It should be interesting with the 6 hour time difference between Toronto an London, but I think I should be able to capture any "must see" events on my PVR. What events are you looking forward to? What athletes are you cheering for?
I wanted to share a clip from Cool Runnings. Although it is a movie about the Olympics, it is about the Winter Olympics, but I love the line from the movie and I wanted to share it anyways.
Cheers,
Me+