Of course, we've got this storm. The city of Boston shut down all public transit, which is a mild inconvenience for those of us who don't own cars.

I awoke this morning to do my e-mail check-in with my online coach. I took my standard photos and sent them off, along with my feedback for the week.

Since I was all suited up in my bikini, I took the time to walk around a bit in my platforms. I'm starting to get really excited for my show, and yesterday was exactly 10 weeks out from the competition. I can't believe it's creeping up, and it's a little scary.

I will be taking posing classes down the road, but it's important for me to start to feel comfortable wearing the heels and a bikini. So with a little iPod music and a full-length mirror, I just had a little fun with it. I'm just still blown away that despite a rough week, I still have a physique like I never thought I would, and I know it will only get better.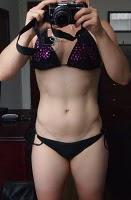 Of course I haven't started the very serious lean-out process yet, nor am I tan. Most of my skin hasn't seen sun in over a year, so I know with a tan, I'd probably be even more content with
how I look thus far.

Despite having no transit, I called up a few of the Boston Sports Clubs in the area to see if any of them were open. To my surprise, all the ones that were within walking distance, were open. I decided to head to my primary gym, so I set out in some junky clothes, armed with an old umbrella, my gym bag, and my 3rd meal packed.

The walk was a mess, and I hardly used my umbrella on the way there, as the wind made it nearly impossible. I love how the city was so empty. It's exactly 1 mile from my apartment, so it only takes me about 15 minutes or so to get there.

Surprisingly, there was a relatively significant number of people working out. It was still quiet, and it was a great day to use the weight room and have it all to myself. Today included:

- 1 leg-bridges
- Reverse dumbbell lunges
- 1 leg hack squats
- 1 leg quad leg extension - machine
- Lying hamstring curl - machine
- Ab crunch machine

My favorite of those exercises is the lying hamstring curl. Least favorite is the lunges... I hate all lunges more than any other lifting move. After my stair running last night, the workout definitely was a little trickier.

Luckily when I left the gym, the rain had stopped, and the walk home was fun and windy. An empty city with high-speed winds can be a lot of fun. The high winds circling around the John Hancock tower creates a sound like no other; it sounds like an enormous crowd cheering at a baseball game, and it's pretty loud.

I had run to Whole Foods early this morning to pick up lettuce, and then the corner store to get Diet Coke, so now I'm all set to set up camp for the rest of the day. My usual volunteering will unfortunately not happen because I have no way to get there. Oh well, it's a good day to catch up on extra rest.