Having Humus Tahini Dip with your main dish or side dish is quite good for detoxification, it does plenty favours to your body and the person himself also feels quite revitalised. Humus Tahini Dip are quite easy to make.  As long as you know the basic principle  of using a knife this recipe is than a piece of cake. This Humus Tahini Dip is suitable for everyone and all ages except "toddlers".  This Humus Tahini Dip is a dip that can also be enjoyed on its own as well as with any meal (e.g. your healthy lunch meal). Best for vegetarians or vegans.
Ingredients:
Yield: 4 servings
3/4 c chickpeas; soaked overnight -and drain
2 garlic cloves; minced
1 ts salt
1/4 ts pepper
6 tb tahini (sesame paste)
2 lemons, juiced
1 tb corn oil (or as needed)
1 tb olive oil
1/4 ts paprika
1 tb fresh parsley; chopped
Directions:
In a medium saucepan place the soaked chickpeas and cover them with water.
Bring the water to a boil over high heat and vigorously cook the chickpeas for 10 minutes.
Reduce the heat to low and simmer the chickpeas for 1« hours, or until they are tender (add more water if necessary).
Drain the water from the chickpeas.
Place them in a food processor with all the other ingredients and process till desired smoothness or texture.
Enjoy!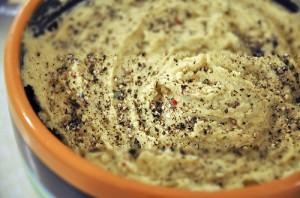 Photo by: Stephan Rosger