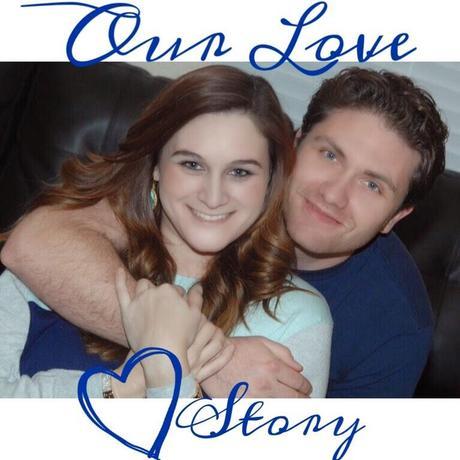 Two years ago I had just gotten out of a long term relationship. I wanted to make sure I didn't go crawling back to him so I decided to join an online dating site. I wanted to show myself that there are other great guys out there. I wasn't expecting to meet the love of my life. All I wanted was to go on a couple of dates to keep myself distracted. I ended up on OKCupid.com.
When I signed up I had to take a test and from the results of that test the website matched me up with other guys. Eloquent_Vessel and I had the highest match. I went on his profile and I was so impressed. I could tell he was a writer from his profile and I new I had to talk to him. I sent him a message on November 20, 2012. This was all on the same day I signed up, by the way.
The message read: 
Number 1. I read your entire profile. Number 2. I liked what I read. I was mostly impressed by your grammar and your choice of words. I love words. As a writer and a songwriter, I tend to use words a lot to express myself.
By the way, my name is Heather.
He responded:
Well hello Heather, my name's Mud.
Sooo. I'd like to get to know a little bit about you and I find the best way to do that is the Question Game…And it is much less a game and more of a chance for me to put on my special announcer voice and make board game style rules. Are you ready? Sweet.
Rules:
1) Each party must ask the other party three questions per round. 2) Each question must be unique to the conversation, I.E. no repeated questions. 3) One party may ask the other to answer a question that they were asked, however it does not count toward their total questions for the round.
Got it? Awesome, I knew you would, you seem like a smart cookie.
So here they come.
1) What is your favorite music artist or band?
2) What genre are you intending on writing in?
3) Prose or Poetry mostly?
Well Heather, I pray you have a good evening and pleasant night. Sweet dreams pleasant sleep.
The rest, as they say, is history. We went back and forth asking each other questions and getting to know one another. On November 24th he brought up the idea of an "ID check", something he wants to copywrite one day. He wanted to make sure I wasn't a three hundred pound man named Pete who lived in Arkansas and used Heather's photos to lure others in. By they way, he still calls me Pete. We had to tell each other what to do and we had to send each other a photo doing just that to prove we really were who we said we were. He told me to wear a kitchen utensil through my hair. I had to wear either a blanket or towel as a cape. I had to salute and hold a green beverage in my hand. (I had to send him two photos because I couldn't salute, hold a green beverage and take a selfie.) I told him he had to wear a blue shirt. He had to hold his favorite Stephen King book in his right hand. And he had to wrap his head in a towel like a woman who just came out of the shower. We sent each other our ID checks on November 26th.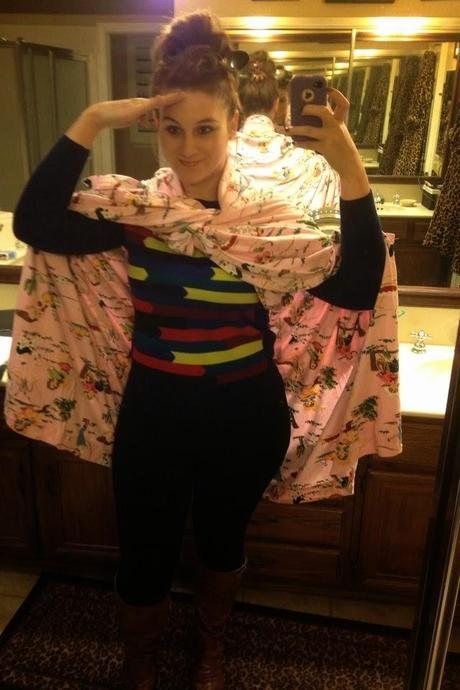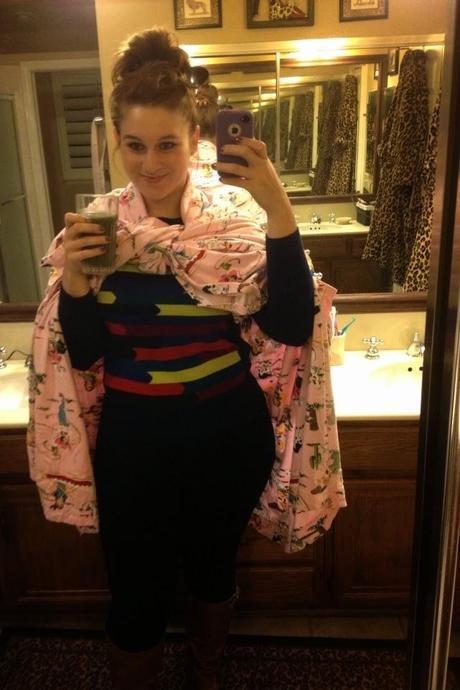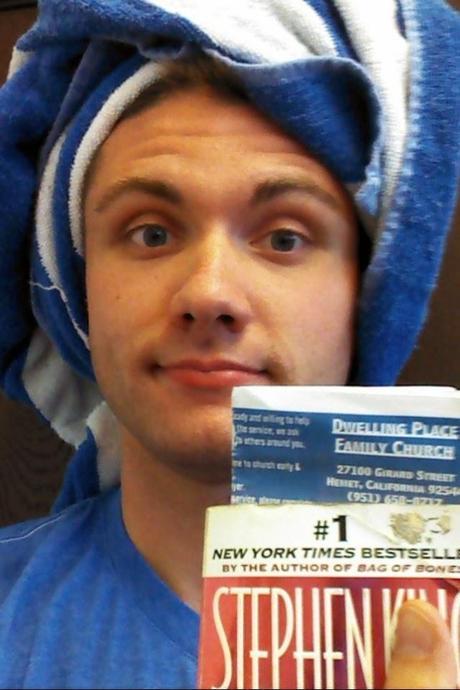 After that he believed I was really Heather and he asked me out. We decided to meet at Ryan Bros Coffee and then walk over to Harveston Lake.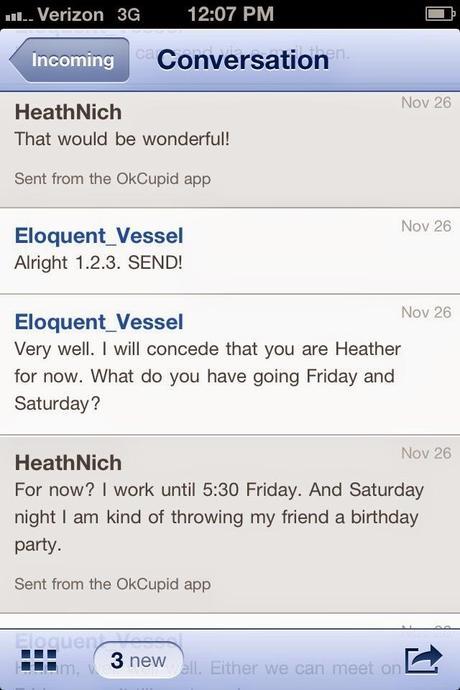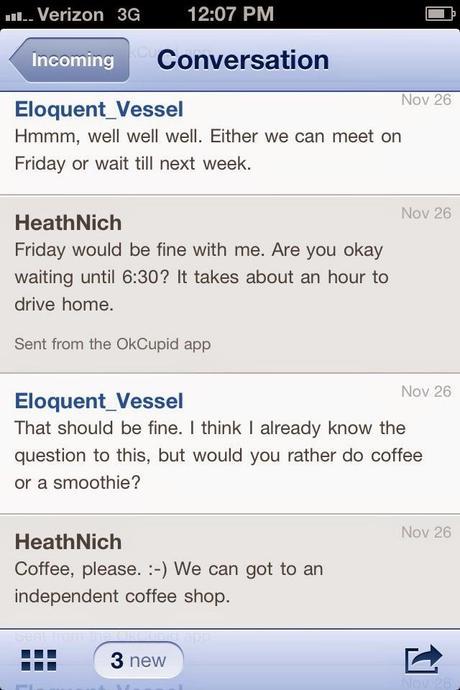 This wasn't just any date for me. I could tell that this guy was different. I had had some great boyfriends in the past. They all treated me very well and I'm still on good terms with most of them. But I never had that feeling with any of them. My mom always says that her heart stopped when she first saw my dad and her life began when she met him. I had never felt that way. Everyone would tell me I just hadn't met the right guy yet. 
I went shopping the night before and I found this sweater and I wore it on our first date. This photo was taken the night before. I am definitely a picture person. I like to document everything. But for some reason I did not take one picture the night of our first date. I regret that now.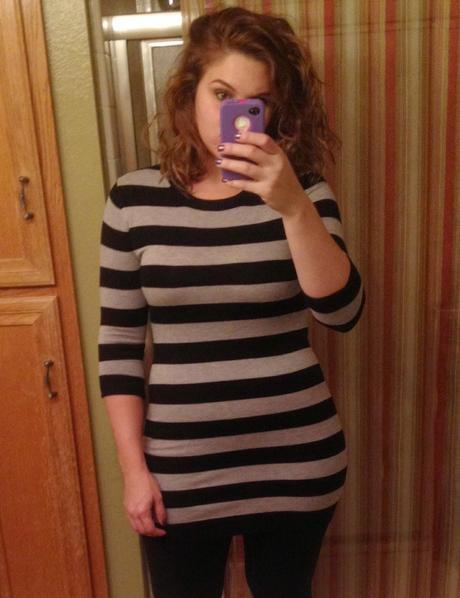 I worked the day of our first date, Friday, November 30th. I was carpooling with my boss at the time and I am so happy that I had someone in the car with me on the way home. I was a nervous wreck and it was pouring rain. Thankfully she was driving. There were probably three different accidents and we ended up taking back roads. I kept texting Stephen to let him know that I wasn't standing him up. I even took a screen shot of the traffic app to show him what I was sitting in. I felt so bad because I was nearly an hour late. When my boss dropped me off at my car I called Stephen to let him know I was back in Temecula and I'd be there shortly. He told me he was sitting in his car outside the coffee shop. That was the first time I had ever heard his voice.
I headed over there and when I got there I texted him to let him know I was there. I walked into the coffee shop and looked around. I didn't see him so I sat down at the table closest to the door. Just then he walked in. My heart stopped. He hugged me before saying anything and I knew in that very moment that he was the one. He smelled so good and I felt so safe in his arms. I just knew. Everything my mom had ever told me was true. All those talks my dad gave me about never settling, he was right all along. We probably could have ended the date right there and I would have been happy. He was so incredibly gorgeous. He was wearing black slacks, a black dress shirt and a black vest. He was holding a gray tweed pea coat. I was very impressed with the fact that he dressed up for me. 
We went to the counter and ordered our drinks. I can't remember what I ordered. Probably a Misto or an Americano. He ordered some sort of green tea. Once we had our drinks we started walking towards
 Harveston Lake. It was about a mile away. We ended up walking even farther than the lake. We kept going until we found a playground and some covered tables and benches. It was cold and it was raining on and off so we figured that was the best spot to land.
I wanted to swing on the swings. He approached the swing first and dried it off with his jacket before letting me sit on it. I thought to myself, "Where did this guy come from?!" I think he pushed me for a little while. And then he ended up sitting on the swing next to me and we talked for a little while. Then he brought up the fact that he brought Uno so he asked if I wanted to play. We sat down at one of the benches facing each other. We put the cards in between us. We played for a little while. He said whoever won would be able to decide whether or not the date would end with a kiss. I was ahead and he didn't like that very much. He made a comment about how he never lost. I said, "Okay, last game and whoever wins this one wins it all." I didn't tell him that night but I let him win. I did not want to be the one who decided whether or not the date ended with a kiss. I wanted that to be up to him so I let him win.
We walked back to our cars after the game was over. It was freezing and all I had on was my scarf. Stephen put his jacket on me. He insisted he was okay without it. As we walked, he held my hand. When we got back to the coffee shop, everything was closed. It was pretty late but we weren't ready to call it a night just yet. Stephen suggested we could sit in his car and watch Netflix on his phone but we ended up just talking for a while. 
It was getting pretty late and we both agreed we should say goodnight. Stephen insists that I kissed him first. I may have leaned in but I know for a fact that he kissed me first. And when he kissed me I thought to myself, "This is what it's supposed to feel like." It was nothing short of magic. He walked me to my car and kissed me again. I asked him, "When can I see you again?" He wanted to make arrangements for the next day (or the same day because it was passed midnight) but I had a friend's birthday party. So we planned on seeing each other Sunday, December 2nd. When I drove home I sent my friend these texts.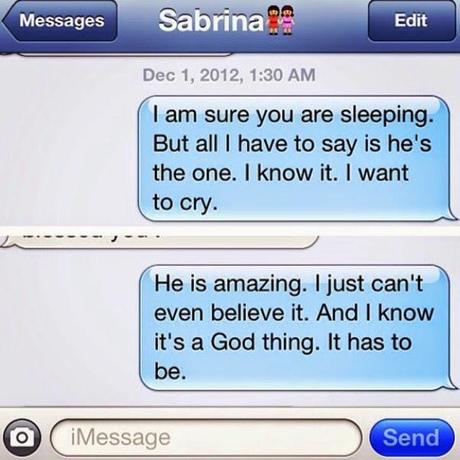 Stephen and I meeting when we met and how we met was definitely all in God's plan. We actually graduated from the same university. We walked the same path several times but we had never met. Obviously the timing wasn't right back then. Prior to breaking things off with my previous boyfriend I prayed about it several times. I knew that I would be settling if I stayed with him but I was also terrified to let go of something I was comfortable with. I asked God for the strength to move on and I gave my love life completely to Him. They say love comes when you least expect it and that was exactly what happened in my case. I will be eternally grateful to God for bringing this amazing man into my life. I will never be able to thank Him enough. 
The last two years have been the best of my life. I love you so much and I can't wait to be your wife. Thank you for being so good to me. Happy Anniversary!
♥Pete