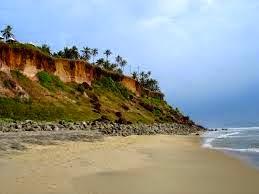 Looking for easy and comfortable access to Varkala? Here is a special guide for you that will surely

make your trip travel easy at the same time enjoyable and mesmerizing one. Varkala is popular beach destinations that can be easily reach by all transport routes as it is well connected by road to all parts of the state of Kerala. The destination gives every tourist and travelers different travel mode, there are the buses, trains, flights and taxi that are plying day and night up and down from city to this beach town and so you can choose any transport mode and reach them easily.
The best answer or suggestions of how to reach Varkala are given below, just note them and see that will suit you the best.
By air
Travelling by air does not mean it can be reach directly here and the beach resort in fact does not have air transport facilities and so if you are a traveler coming from other countries or even from other parts of the country by air. Thiruvananthapuram the capital city of the state is the nearest airport city. It possess international airport that give access to all travelers coming from in and out of the country.  This Thiruvananthapuram International airport connects almost all the airport station by flights with different cities in India and world. And so you need not worry about the transport system, you can easily spot here by air then take a bus or taxi or may be for tourist Volvo bus might be a good idea to take as it is less expensive and better still if you take up trips with tour packages as it access and guides tourist from the airport to different destination book by the traveler.
By Rail
If you thinking of or planning to come by train for those domestic tourist and even foreigners who are on tours to joint sightseeing and stay in Varkala, train is also gives an exhilarating experience. You can travel from place to place and enjoy different sites if you travel by train. However the place does not serve a wide network of train services but still you can get the access from the Trivandrum rail strip, Rapti Sagar Express, Nagercoil Express and Himnsagar Express.
By road
More exciting if you take up with road system, motor able roads are well connected with most of the major cities and different places in south India and can be even reach by two wheeler as some adventurous travelers do, motorbikes, cars are also available on hire in most of its nearby stations. If you are planning to travel yourself, you will have to travel maximum to reach here about 57 km from Thiruvananthapuram, 140 km from Sabarimala, 88 km from Ponmudi, 186 km from Thekkady, 138 km from Kanyakumari, 180 km from Kochi, 375 km from Kozhikode and 695 from Bangalore and 713 from Chennai but it a great distance to travel by road from Bangalore and Chennai and for those looking out for short time vacation you may need some other guidance.
Better you get the travel package for those hedonist short travel seekers like honeymooners and even other. It gives the best guidance and offer for such tourist and you will surely enjoy traveling with it.