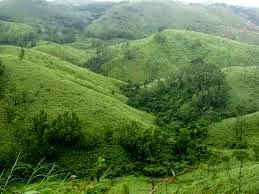 Vagamon is a beautiful charming hill station situated near the border of Kottayam and Idukki districts
of Kerala. It is an awesome nature gifted site with sequences of three quaint hills surrounding it. These hills are the hills of religion and gods; they symbolize the three religious practices found in the state namely the Hindu, Muslim and Christians.
It was once unknown to the world but later when the British had discovered, the place was named as the Scotland of Asia. It is a fertile land with the surrounding region ideal for tea plantations. Thought tea plantation farms are still visible it is commonly known to the world not for its tea garden farms but as the best suitable site for relaxation and paragliding picnic spot.
However, as the place is located in the remote region of valley surrounded by hills and mountains which makes it a favorable site for such leisure escape during summer break and weekend days to spend some spare times. Today, with the development of transport system and tourism services it has become quite popular and is flourishing far and wide.
During summer vacation, people often visit this place and love to be here as it is blessed with scenic beauty and serenity of nature which perfectly seems to exhibit a pleasure mood of nature. It has a pleasant climate with the suitable temperature of 10-230C in summer and even the midday of summer is mild compared to other region.
To know about how to reach Vagamon, the best route and the easiest way accessible by road is from Kottayam and Cochin. It takes around 100 km only approximately from Cochin and Trivandrum, major and prominent cities of the state. And for railway Kottayam will give you the best access which will take around 60 to 64 km to reach the place.
If you are traveling by air, Cochin international airport which is about 120 km will be suitable. You can also access from Madurai which will take about 210 and from Thiruvananthapuram, you need to travel about 267 km. thus Cochin is the nearest and the easiest route if you are coming by plane. And for rail, Kottayam and Madurai is the popular railway stations located about 64 kms and Madurai 149 kms.
You can also look for the road transport service as soon as you land in any of the above places. There are direct bus links from Thiruvananthapuram, Cochin, Kottayam, and Madurai and even from Munnar. So you can also enjoy the joint exclusive package for if wish to explore the various attractions hided in them and also enjoy unlimited thrills and excitement from them all. You can obviously experience them all with travel packages. So get the best suggestion, advices of tour operators and proceed them for ultimate holiday fun.