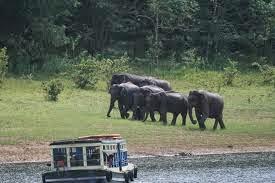 The word thekkady conjures up of the galleries of forest laded green hills, mountains,
deep valley and
many other natural sights. On top of it the attraction for wildlife expedition, adventure trekking facilities and other activities are also quite tempting. Thus it is a wonderful tourist place that will surely delight every visitor.
Thekkady is also well known for possessing the amazing Periyar Wildlife Sanctuary set perfectly in the beautiful Idukki district which is also a popular tourist fascinating place in Kerala. But the main region of its location is Kumily, a border town between Kerala and Tamil Nadu. It is a place rich in flora and fauna and is a definitive reservoir of endangered species and rich tribal culture. There are lots of explore in this place which have made the place an important tourist destination in the state. It is a prominent site trekking, wildlife expedition and wild thrill adventure tours, jungle safari, jungle camping and jungle tree top stay.
Thekkady truly is the world of nature and wildlife paradise thought situated in the remote part of Kerala, it is well connected with most of the major towns and cities of the state. Therefore there is no need to worry about its access and how to reach Thekkady; everything will be guided by the tour operators. For your knowledge as the state is highly developed state thought there are remote areas transport systems are well maintain and it connects with almost all the major cities and towns by road, rail and air. So whether you are traveling from far or near, you can always take its route from any direction.
For your suggestions if you are coming by plane, the nearest airport to this town is the Madurai airport which is about 140 km distance. Almost all the air services of India are available from Madurai airlines such as Air India, Jet airways, Kingfisher Airlines and Spice Jet Airlines operates on daily bases. They connect with major towns, cities and international countries are also connected by them. Another nearest international airport and harbor city is Cochin which gives the access to every visitor.
For railway, the nearest railway station is Kottayam which is about a distance of 114 km located in the center of the city. The station lies in the busy zone between Thiruvananthapuram and Ernakulam; it will also give you a wonderful chance to explore the rich culture of Thiruvananthapuram and also get chance to enjoy the attractions of Ernakulam. But still if you wish to enjoy the breathtaking fresh air of winding routes that leads to this destination, if you book the frequently plying buses it you will get to enjoy them.
There are numerous possible routes leading to Thekkady but what depend are the comfort and your interest. Choose the right pass and get the best treat as retreat to your destination.