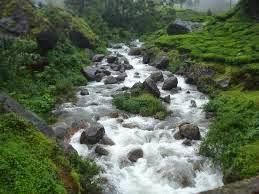 Driving up to Munnar hill station can be adventurous at the same time rejuvenating.
The stimulating
hill scenery, tea slopes sights from far and the green hills surrounding the station will surely live an unforgettable trip for life time. You will experience the real spirit of nature as you go slowly through the narrow winding roads and even the images of the shades of green hills dotted around it are amazing creation of God. From the lush carpets of the tea bushes to the silver green of the oak, Munnar is simply amazing beyond description that words can produce.
Visit it and experience the true world of nature which is applicable in Munnar. And for your information of how to reach Munnar, there are lots of routes that will successfully carry you here. You can either go for road ways, railways but for those coming by air, you can seek for the nearest airport and pass through from it with bus or taxi. The nearest major airport that will give service for all international and other tourists is Cochin airport. It is the nearest and easily route to go to Munnar for those coming by flight, still there are also other neighboring airport centers such as Chennai, Bengaluru and Peelamedu  however, as they are quite outside the state, you will have to spend some charge money for taxi and buses from it.
And for those seeking travel from rail, Angamaly is an important rail junction in Ernakulam and if you take up tax from here it costs about a minimum charge of 2500 rupees. As Munnar is well connected to other cities in Kerala and Tamil Nadu, if you have landed in any of its neighboring places you can easily travel by even passenger buses plying between the places of Munnar and others. Yet, for better result there are travel packages providing arrange trips. It is better to plan tours; trips and holiday get away with it.
Here are some of the easiest routes possible for comfortable travel trips. They are given as options choose any of them and enjoy travel in it.
By car
If you take up car it is more comfortable and ideal while traveling with families and seniors which are not that expensive as compared with its facilities. There are cab from nearby towns and cities within the state and even from Chennai and other popular cities.
By bus
Nowadays buses are also some are also quite comfortable for tours and travel purposes. Its expenses are much cheaper compared to other transports and it also provides luxury services with deluxe and A/C coaches. It is the most ideal means for traveling backpacker and individual or group travelers. There lots direct bus services available from different places.
Go for the most comfortable and convenient transport as it also plays an important role in tour trip. Good transport will give a happy, enjoyable, healthy and delightful trip always.