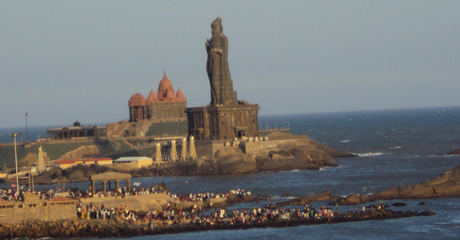 Kanyakumari a popular well to do tourist place sought after by most
of the tourist coming for south India tour are all drawn by its attraction. 
It was once a great center for art and religion for centuries and till today it continues to pull the attention of visitors with its relics and other ancient sites. 
Though it's a remote region located in one corner district in Tamil Nadu, it has a great tourist access point and thus the place is mostly frequented by tourist and visitors. 
It is one among the wealthiest spot in Tamil Nadu well known since the ancient times for its rich culture and heritage that are found embedded in it. The British too once had colonize the place for trade and commerce and has been a great commercial center during the British ruling time famous for its art and architectural works.
Till today the Shakti Peetha also known as Kumari Amman temple, Vivekananda Rock Memorial and the statue of Thiruvalluvar which is recognize as one of the biggest statue in Asia still stands perfectly unspoiled by any natural calamities and the amazing wonders and beauty of the style and designs are the lure of tourist at present and are specially reserve sites for tourist amusement. 
For all its incredible tourist places tourism is quite active here in this particular area. In a year it even attracts more than hundreds and thousands of tourists from all over the world and thus transport route system to reach here is also well developed and smoothly constructed and maintain by the state government. 
You can easy access here via air, rail and road and so for more details about how to reach Kanyakumari you may need to learn more about this routes and the easiest or the nearest stations where airport, train stations and the road destinations are located.
By air the nearest airport Tamil Nadu has five international airports. Tourist can access first to this state by flight to any one of the airport station and among the popular tourist traveling site, one is the capital city of Chennai then Coimbatore, Trichy, Madurai and Tuticorin. 
And travel from its neighboring state Trivandrum is the nearest airport station compared to other tourist destination however with its distance Bangalore is also quite near and does not take much time to reach here.
The state of Tamil Nadu is also well developed in railhead too, there are lots of rail junctions in the state you can either access from any of the station of Tamil Nadu or you can also take up from its neighboring state. Trains services are also available from Delhi, Bangalore and some of the major cities to this tourist station. 
For entry route Kerala is also one of the nearest popular tourist destination which offer rail, air and road service to this ancient heritage pilgrimage center of Kanyakumari. 
One of the easiest way to enjoy touring and traveling in India and other parts of the country is to go travel with packages for best experience with comfortable access, good accommodations and delightful sightseeing, entertainment activities and satisfying tour trip.