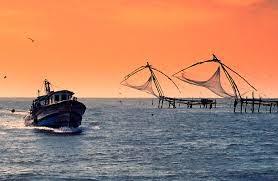 Cochin is a popular tourist destination well known particular for its famous Chinese fishing net
that is existing in it and for many other wonders of attraction and tourism services found in it. The city is well noted to the one of the best natural harbor in India. Being a port city it is easily accessible even
for foreign tourist who is traveling by ship.
Cochin being an important center of both trade and tourism the place is well connected by air, rail and roads and has a good transport routes from all directions. Today, besides the trading hub tourism has also become quite popular in this place. Thousands of tourist flock to this place seeking for experience the wonders prevailing in it. The general idea of how to reach Cochin, visit travel places within and beyond this lovely city and all the lovable areas surrounding it is given in details by the travel agents mostly online along with tour packages but are not usually offered in the package. So you need to learnt them and go for the right direction that will safe you and your money as well and also give you an enjoyable trip. Here are so of the routes possible to reach Cochin without any trouble.
If you are traveling with air, there are number of domestic and international flights operating from Cochin international airport located at Nedumbassery. This airway serves connect almost all the major cities within and outside the country. Therefore, the city has earned a good impression for its facilities and is counted among the best airport in India.
As city is situated somewhat near to some of the major cities of India and the road transport service is also highly develop, you can also opt for road travel if you happen to haven laden on other nearby cities and are seeking for this tour. Even for those who are proceeding for joint tour, road transport is also quite favorable.  The city is located about 565 km from Bangalore, 223 km from Coimbatore, 848 km from Goa and 694 km from Chennai and these are mostly the neighboring cities which offers good passenger services with taxi, cars and buses. You can also go from Mysore which will take about 470 km and Ooty about 312 km. therefore, you can access your tour to this place from any direction according to your convenient.
If you prefer travel with rail there are also trains running from the 3 railway stations in Kochi. The Ernakulam Junction, Ernakulam town and Cochin harbor Terminus are well connected with all small and big towns and cities and so it also gives wonderful facilities from all different sites. Cochin has good transport facilities from every direction and offers myriad attractions and services. Visit it and get the best holiday thrill in it.