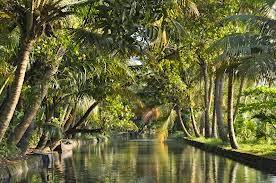 India is one of the most fascinating places in terms of the tourist attractions that it has to offer.
There is much diversity that the nation and its communities have in a lot of ways. Contrary to the perception of most people, India is more than just a land of the spiritual and the home of temples and ashrams. As a matter of fact, there is so much more to do and see in India. In the southern part of the country especially there are many places of interests. From the beaches to the backwaters, mountains and cities there is a lot that you could explore. There are also, the remote and rural areas that you could resort to in order to avoid the noise and the pollution of the cities that you come from. Alleppey is one of the small towns in Kerala that is popular especially if you want to go into the backwaters. This article will focus on how to reach Alleppey in Kerala.
There are many ways to get to Alleppey and they are as follows. Alleppey has no airport of its own but the cities of Cochin and Trivandrum which are significant commercial centers of the state each have their own international airports which are well connected to other cities and towns of the country and abroad. Make your way to either Cochin international airport or Trivandrum international airport and then you can take a taxi from there which will cost about 15 INR per kilometer and then take the road to Alleppey. You could also opt for trains. For trains as well, you will have to travel to Cochin or Trivandrum first and then take a taxi or bus to Alleppey. The Cochin and Trivandrum railway stations also are well connected to other cities and towns in India especially those in the south. The KSRTC bus system connects Alleppey well to most of the major cities in south India such as Cochin, Trivandrum, Bangalore, Chennai, and Mangalore. Buses are the least expensive means to travel to Alleppey. You might want to make your bookings in advance because most of them run out two months before the date of travel especially during the popular seasons.
Getting to Alleppey is pretty simple and easy.
Alleppey is also known as the Venice of the east because of the lakes and other water bodies that it is home to. Of course boating is one of the most important activities of the people of Alleppey and also to the travelers that go there. But one of the most important features of Alleppey is its houseboats. There are many packages which offer houseboat tours in the backwaters of the region and they could last from 2 days to one week. The cost of these tours would depend upon what package you choose. In addition, Alleppey is one of the most important prawn farming and coir carpet making commercial centers and industries in the country.