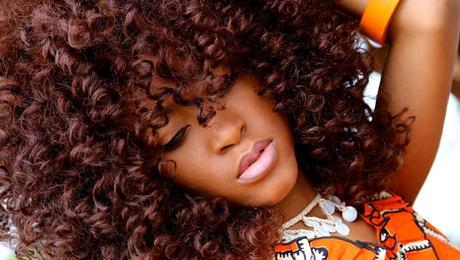 Photo Credit: NaturalHairNSkinCare
L
ong gone are the days where perm rods were only used by older women in the 1960s. Perm rods have been embraced by the natural hair community for their ease of use and versatility. I love using perm rods when I can't think of anything else to do with my hair (besides throwing it up in a puff) because they are so easy to install and versatile in styling options. If you've never tried perm rod curls, keep reading and you'll be a pro in no time!
What are Perm Rods?
Perm rods are also known as cold wave rods. They are plastic curlers that range in color according to size. Perm rods have been popular in the black and natural hair community for decades.
They can be used to create a variety of styles and curl textures ranging from tight, kinky curls to bouncy, voluminous waves depending on the size of the perm rods used.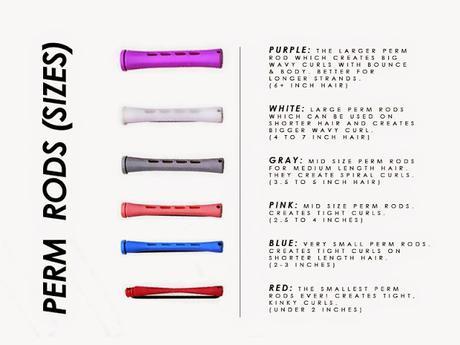 Photo Credit: EtcBlogMag.com
Each perm rod is slender with an hourglass shape and very tiny ripples for gripping purposes. Once the hair is set on the perm rod, the rod is secured by an elastic band. This ensures that the rod is secure in place and there are no indentations made in the hair.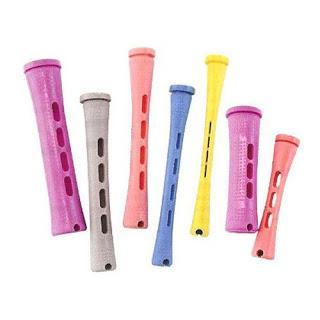 Perm rods range in size and are usually color-coded based on their size. Choosing which size perm rods to use on your hair all depends on the size of the desired curl. The smaller the perm rod, the tighter the curl. 
The length of your hair is also a determining factor in deciding on which size perm rods to use.

For shorter hair, you should use smaller size rods for curly hair and medium size rods for wavy hair.

For longer hair, the medium size rods will create soft, bouncy curls while jumbo size rods will create bouncy, voluminous waves.



Short Hair (2-3 inches in length):
•
Red Perm Rods
Red are the smallest size perm rods that are used to create very tight curls. This size is mostly used on very short hair to get tight curls. The red perm rods are the most rarely used size.
•
Blue Perm Rods
Blue perm rods also result in tight curls that are similar to straw curls. This size will give much shorter hair a looser coil unlike a tight kinky curl like the red perm rods. It's the perfect size for hair that is 2-3 inches long.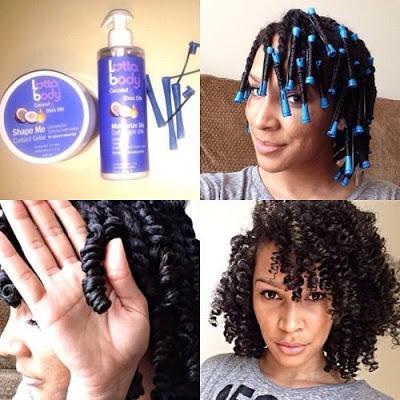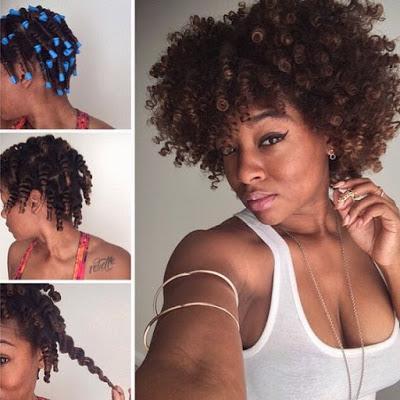 @deylasoul
•

Pink Perm Rods
Pink perm rods are used to create tight curls on 2-3 inches of hair. The curl is much looser than the red or blue perm rod and it can be used to create waves in shorter natural hair.



Medium Length Hair (3.5-6 inches in length):
•

Gray Perm Rods
Gray perm rods are used to create spiral curls in medium length hair. These rods can be used on short hair to create waves and volume, and medium length hair to create mid-sized curls.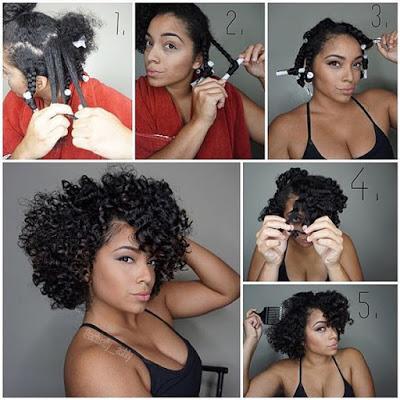 @Actually_Ashley

•

Purple Perm Rods
The purple perm rods are medium sized and create soft, tight curls on medium to longer length hair types. The longer the hair the tighter the curl. On shorter hair, these perm rods are used to create body and volume.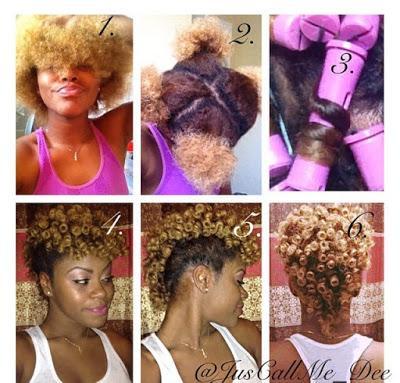 @JusCallMe_Dee
• White Perm Rods
White perm rods are used on medium length hair to create soft, bouncy and wavier curls.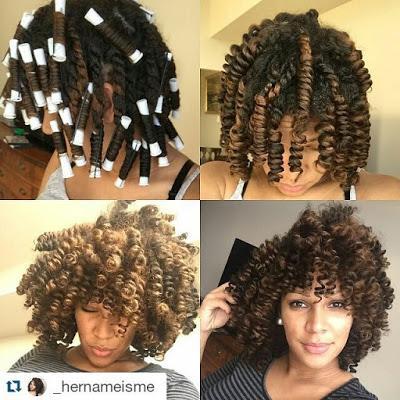 @_hernameisme
What You Need to Get Started With Your Perm Rod Curls
&https;
Keys to the Perfect Perm Rod Curls on Natural Hair
For the best results, your perm rod curls should be set on clean, conditioned hair. Start by cleansing the hair with a sulfate-free shampoo. Follow up with a moisturizing conditioner and dry your hair with a microfiber hair towel like

this one

or

this one

. If neither are available, use

 

an old t-shirt instead.
Detangle and stretch the hair using a wide-toothed comb or Denman brush. Start by using a detangling leave-in conditioner. Work the conditioner through your hair and detangle the ends of your hair first.
Section your hair based on how you want your curls to fall. I usually section my hair off in the back, the middle section, two sections on each side and the front section. You can section your hair in whatever way that works for you. Working in sections will give your hair uniformity and it's much easier that trying to just place curlers randomly.
Start Rolling at the Ends
When doing a perm rod set, one of the most common mistakes that women make is forgetting to smooth the ends of the hair. The best way to get sleek, flawless curls is to make sure that the ends are smooth before adding the perm rod. Start at the ends and use a small tooth comb to smooth the ends after you've added your setting lotion. Smooth the ends of your hair around the perm rod and twist the hair up the perm rod.
Although it can sound complicated, perm rod curls are one of the easiest and most popular (besides the twist-out) natural hair styles. If you're more of a visual learner like me, here are a few perm rod tutorials for various natural hair textures:

Grace Shari demonstrates a gorgeous perm rod set on medium-long length natural hair.

Yolanda Renee shows us her technique for getting the perfect perm rod curls.

Here, Yolanda shows us her bomb ass results from her perm rod set.

For shorter, medium length hair JD Winters has the perfect perm rod technique.

Jenelle's perm rod set turned out to be stunning with so much fullness and definition.

Lee from the YouTube channel IKnowLee rocks a gorgeous perm rod set on colored natural hair.

Cindy from the YouTube channel Hairendipity uses larger perm rods for big, bouncy curls.
Have you tried a perm rod set? What products do you use to get flawless perm rod curls?