It's no surprise that one of the most popular types of honeymoons is one that combines both time on safari and time on the beach – that way you get a bit of excitement and adventure, plus some much needed downtime. But packing can be a struggle as you're essentially packing for two very different holidays, and if you're traveling to some of the more remote safari camps then you may have rather tight weight restrictions on your luggage. The best way to cope with this is to choose items that can double up both when you're on the sand and spotting animals – simple separates enlivened by accessories generally work the best in terms of flexibility and keeping your baggage weight down.
I've put together a few looks that show how one or two key items can be used on both safari and on the beach –  you'll notice a few items recurring in more than one look, as it's always useful to be able to wear one piece as many ways as possible.
Key things to bear in mind: pack lightweight pieces that won't look too bad if they get a little creased; don't wear bright prints on safari, so brighten up neutral colours on the beach with colourful accessories; and choose just a few pairs of shoes that will work well at different times of day and get you from safari to sea.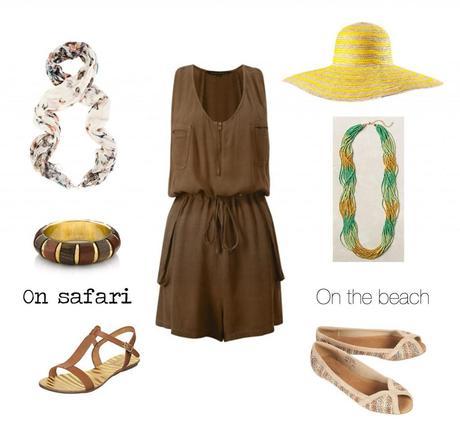 Playsuit:
French Connection
 (£65.50)
Safari: Scarf, Warehouse (£22); bracelet, Accessorize (£6); sandals, Dune (£30)
Beach: Hat, H&M (£12.99); necklace, Anthropologie (£32); shoes, Topshop (£26)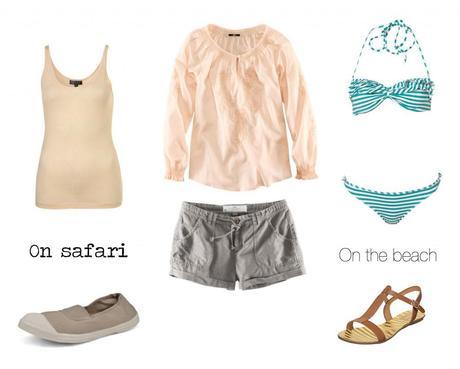 Blouse:
H&M (£14.99)
Shorts: H&M (£12.99)
Safari: Vest, Topshop (£6); Bensimon shoes, Sarenza (£25.50)
Beach: Bikini, Topshop (£26); sandals, Dune (£30)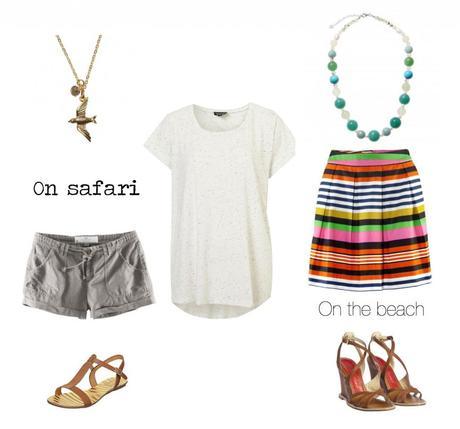 T-shirt: Topshop (£14)
Safari: Necklace, Oliver Bonas (£9); shorts, H&M (£12.99); sandals, Dune (£30)
Beach: Necklace, Oliver Bonas (£24); skirt, H&M (£12.99); shoes, style-passport (£60)