I can't claim complete impartiality with this review: Devon is my favorite place in the UK, and there's little that makes me happier than waking up to the sound of the sea. So it's no real surprise that South Sands had me smitten before we even showed up there – though I have to admit to being surprised that it managed to far surpass my high expectations.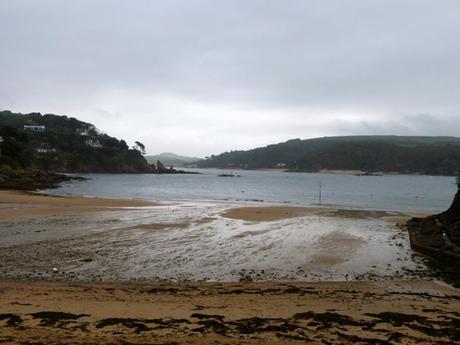 South Sands beach
There are few hotels in the UK that can boast such a good position as South Sands; situated on the eponymous beach, a short distance from the small, picture-postcard town of Salcombe on Devon's appealing south coast, the hotel is approached down windy country lanes that suddenly open up just before the hotel onto a view of the beach and the Kingsbridge Estuary. Everything I had read about the hotel before our visit had emphasised its New England-chic, and that's exactly what the hotel has, from its clapperboard exterior to the muted seaside colours of its interior.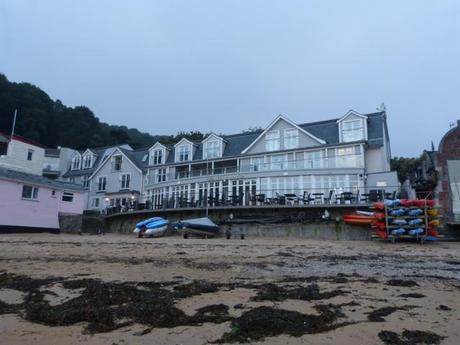 South Sands seen from the beach
I had been quite apprehensive about our visit, as it was our first stay in a posh hotel with a small baby, but from the minute we walked in it was obvious that it lived up to its reputation as a family-friendly hotel. That's not to say that it's crammed full of kids' things and equipment – far from it – but the staff were constantly welcoming to all three of us, and even when we were juggling a tired baby with our three-course dinner we never felt as though we were inconveniencing anyone – if anything, people went out of our way to interact with our daughter. That said, don't let this put you off if you're looking for a romantic place for two – it's the perfect hideaway for a couple, and incredibly romantic, not least due to its position.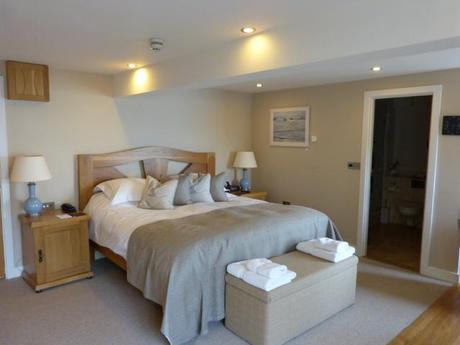 Room 11
We had the privilege of staying in a Dragon Room – the hotel's second-best standard of room – which boasted a fantastic sea view. Throwing open the windows to see the sand and the water, and hear the sound of the waves, was absolutely enchanting and I could easily have spent the whole two days sat in our armchairs soaking it all up. No two rooms at the hotel are the same, and our Dragon room (number 11) was one of the largest, with two windows, a fabulous super king bed, and a claw foot bath as the centre-piece.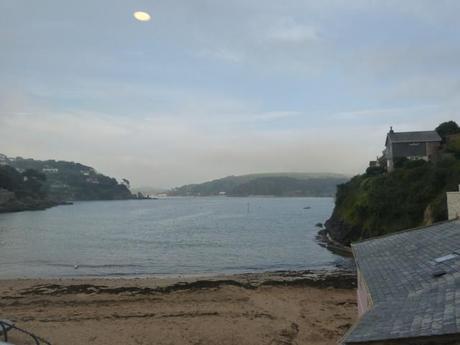 View from room 11
I was able to see a number of other rooms at the hotel and they were all absolutely gorgeous, decked out beautifully and incredibly comfortable. I will say though that if you're staying here, you ideally want to be in a sea-view room as it seems such a shame to miss out on that amazing view, especially on your honeymoon. That said, if you can't quite stretch to it, then you can easily soak up the estuary from the restaurant and the bar, not to mention on the beach itself.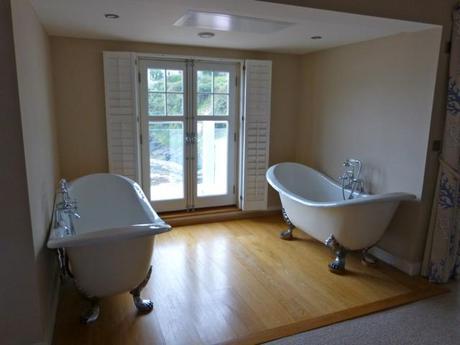 J-Class Room
The hotel's pièce de résistance is the J-Class Room, of which there is only one; the largest room in the hotel, the bed is so large (two super-kings pushed together) that the linen has to be specially made, and with two "his and hers" baths facing one of the windows. It also boasts its own large balcony, and arguably the best views in the hotel, though of course this comes at a price – in low season it's £275 a night, in high season, £375. In addition, the hotel also has a number of Beach Suites, which are self-catering options that are perfect for families or people looking for a bit more space and independence, though with access to hotel facilities, including breakfast.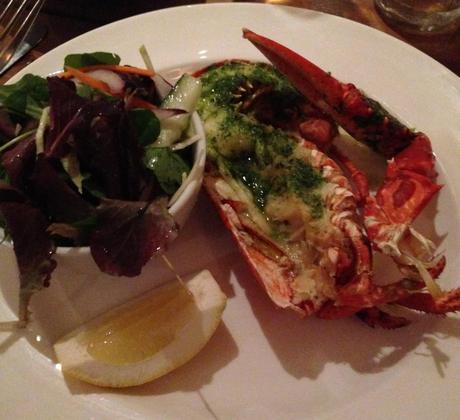 Half a lobster at the restaurant
The restaurant at South Sands is justifiably celebrated in the area, and we particularly loved the fact that the restaurant continued the beach-chic vibe with its relaxed feel, and found the food to be excellent, but reassuringly unpretentious. Best of all, dining at the hotel means that you get to enjoy some of the region's best seafood, and the menu reflects the hotel's position – I started with tempura soft-shell crab and my husband had salt-and-pepper squid, while we both had half a lobster for our mains; both courses were absolutely delicious, as were the desserts. Service throughout was brilliant – the right side of friendly without being too in-your-face – and we especially enjoyed having breakfast each morning and being able to soak up the view (again!) at a leisurely pace.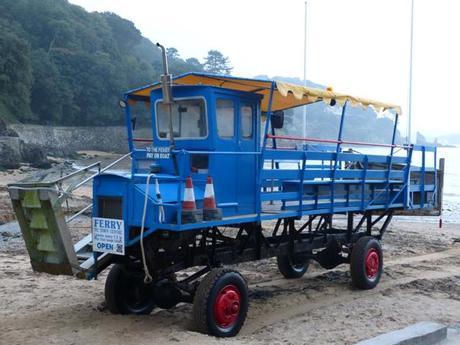 The sea tractor
Though the hotel is only a short drive from Salcombe, the best way to approach the town is by ferry – a sea tractor runs from the beach every half-hour to meet the boat – which is a fantastic way to travel, and it was great to get out on the water after looking at it so much. Salcombe itself is a pleasure to wander around, though in summer it apparently gets rammed with tourists (we were there at the end of September), with lots of little shops, pubs and cafes to while away a few hours. From Salcombe you can also get a ferry up to Kingsbridge, or take a boat across to one of the other beautiful beaches on the estuary.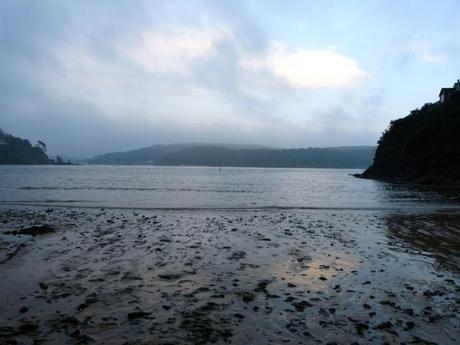 South Sands Beach at dusk
South Sands is one of those places where you just can't quite believe your luck at staying there. Even though it rained a lot during our stay it was still an utterly enchanting place to be (that view just doesn't get boring), and we couldn't help but turn to each other every so often and exclaim "I can't believe this is the UK!". I can, with no exaggeration, say that this was my most favorite stay of any hotel I have had the privilege of staying in in the UK, and certainly one of the nicest I've stayed at anywhere. Yes, it's expensive, but in my view it's worth every penny.
In a nutshell:
We loved: The views; the comfortable but luxurious rooms; the excellent service; having the beach on our doorstep.
We weren't so keen on: Having to leave.
Ideal if you want: A picture-perfect beach hotel in the UK.
Need to know:
South Sands Boutique Hotel, Salcombe, Devon, UK
Rates: Rooms start at £150 a night including breakfast; Dragon rooms start at £235 a night.
Nearest airport: Exeter (1 hour drive).
The Honeymoon Project was a guest of South Sands Boutique Hotel; however all opinions are my own.