Looking for a London honeymoon hotel? Then look no further – today, Helen Ochyra shares her review of The Arch.
I feel at home the instant I open the door to my suite at The Arch. Warm décor, cosy lighting and peace and quiet make arriving here feel like coming home.
The peace and quiet is particularly unexpected. Located close to Marble Arch station and within shopping bag swinging distance of Oxford Street and its multitude of high street stores, I had assumed it would feel a little frenetic.
But how wrong I was. Walk up Great Cumberland Place and you will find an oasis of calm. Traffic dies down, other pedestrians drop away and suddenly you are at the imposing portico of this five-star retreat. In the heart of London and yet somehow utterly unshaken by it.
I checked in on a Saturday and was ushered immediately into the inviting lobby, it's smiling staff ready to welcome me from behind a row of iMacs. My bag (and, this being winter, copious coats) were immediately unloaded from me and I was taken downstairs to my suite.
That last part was something of a surprise, the lower ground floor not being where I would normally expect to find one of a hotel's best rooms.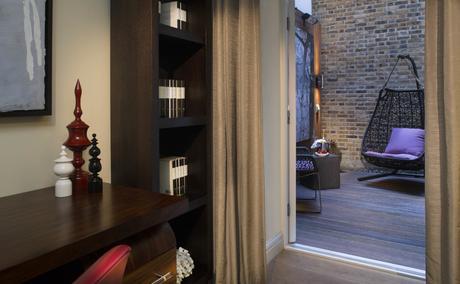 The Courtyard Suite
But then we walked through the door and I changed my mind. Natural light poured in from the private courtyard (a very unexpected treat), the lobby area led through to a kitchenette (classy enough that that word does it a disservice) and on to the bedroom, more a studio. There was a workspace, a sofa, two armchairs and the crowning glory, a huge four-poster bed.
The bathroom was incredibly spacious too. His and hers double sinks (no arguments), a large rainfall shower and a double ended bathtub (no arguments again) with a television screen at one end.
I relaxed in the courtyard, enjoying the fresh air beneath a patio heater, made Nespressos, used the free wifi to work and of course, took a bath watching TV and feeling like I had really escaped.
And yet London was right on my doorstep. I shopped on Oxford Street, returning with bags and tired feet, and walked everywhere, making the most of this central location.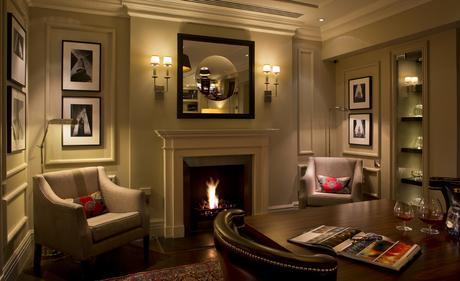 The Martini Library
There are numerous restaurants nearby but The Arch has its own restaurant, and it is well worth staying in for. Hunter 486 calls itself a brasserie, but this belies its quality. Named after the 1950s dialling code for Marylebone, it exudes old world glamour and I sink into a booth to order cocktails (try the pomegranate and peach bellini) followed by 28-day aged rib eye and a bottle of malbec. It is relaxed and yet stylish, the perfect retreat from London just outside.