I'm not ashamed to admit that I'm more of a glamper than a camper. It's the idea of camping that I love – the being outside, getting closer to nature, the freedom – but the practicalities (soggy fields, mucky shower blocks, sweaty tents) never fail to remind me that I'm not quite hardy enough for the real deal. And these days, there's no denying that I like a bit of luxury – not least a comfortable bed and a decent duvet – when I'm away from home. It's just as well, really – while I'm sure that there are people who go camping on honeymoon (and why not, if that's what you like doing?), it's glamping that really fits the more stereotypical honeymoon dream.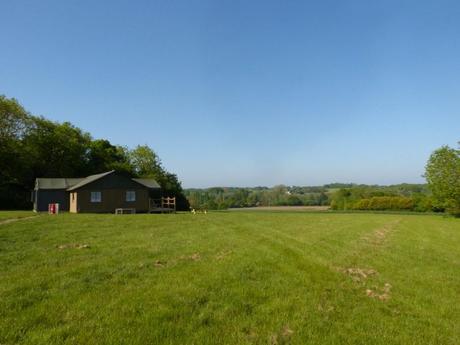 Arriving at Lantern & Larks as the sun was dipping low behind the trees, having followed a windy road through sweet villages and lush green fields, we breathed the kinds of sighs that only fresh air and countryside can bring – those of complete and utter satisfaction. There are just four tents at Lantern & Larks, set in a large field at Sweffling Hall Farm, just a short distance from Saxmundham, and with wonderful views onto gently undulating farmland. When I say "tents", I should point out that these aren't quite what that word would usually have you imagine – they're much more akin to large African safari tents, housing not one but three bedrooms.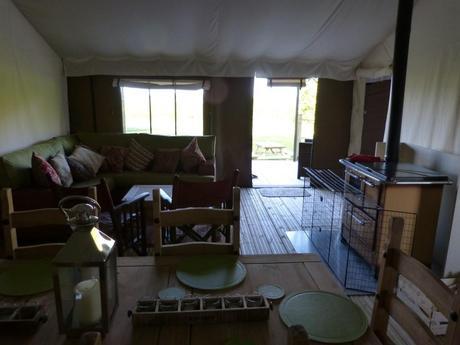 One of the things that really struck us about the tents at Lantern & Larks was how they were more like canvas cottages than tents in many ways, not least because of the huge living-dining-cooking space, which came equipped with comfy sofas, a huge wooden dining table, and a kitchen that was better equipped than most self-catering properties we've rented. For cooking (and heating), there was a fabulous wood-burning stove – thankfully, Laura, the very helpful site manager, told us how best to light it, so over the three days we were there we cooked everything from full English breakfasts to Spanish-style prawns on there. Helpfully, there's also a two-ring gas hob, which was great for a quick cup of tea (especially in the morning when you don't want to wait ages for the stove to get hot enough). There's no electricity, but a plentiful supply of lanterns, paraffin lamps and solar-powered lights, which help create a magical atmosphere once the sun has gone down.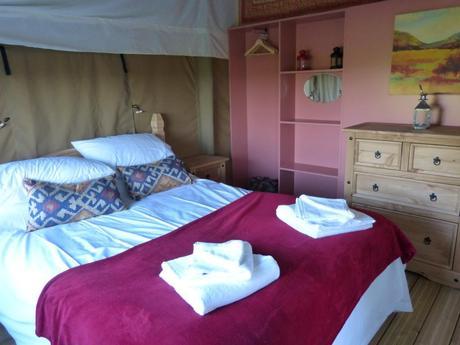 Each tent has its own toilet and (hot) shower attached at the back, and a wonderful large deck out the front from which you can soak up the views. For a little extra, you can hire a "fire pit" for barbecuing, and arrange for a "breakfast pack" to be provided – the latter we thought was well worth the extra money as the locally-made sausages and bacon were the most delicious we've had in a long time (and tasted all the better for being cooked on our wood-burning stove). Though there's three bedrooms, we only used the master bedroom and found that it was a great size for us, and still retained an intimacy that you would want from your honeymoon. Some of my favorite memories at Lantern & Larks are of the evenings, when we sat and played Scrabble by candlelight, wrapped in blankets and warming ourselves by the stove.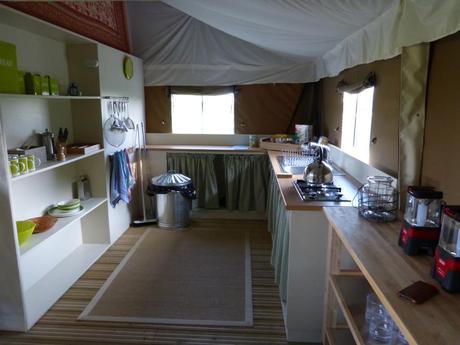 Aside from the wonderful tents, the real selling point here is the setting – this is a proper, working farm, but you won't find your quiet countryside idyll disrupted by the daily work here. From Sweffling, you're an easy drive to the beautiful Suffolk coast (Southwold was our favorite of the seaside towns), countless picturesque towns and villages, and there's glorious countryside everywhere you turn. We loved exploring this part of Suffolk, and though we were absolutely blessed with fabulous weather, it was obvious that even in more traditional British summer weather, it would still be a great place to be – and even if you couldn't go far, there is ample space in the tent to spend a day indoors without going stir crazy.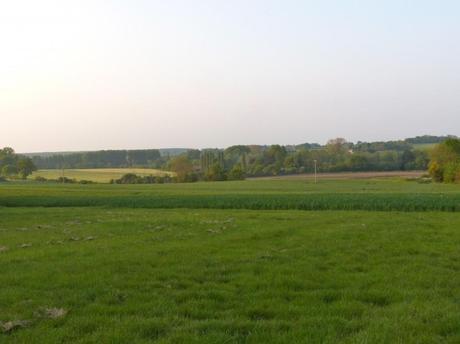 We were there with our inquisitive, won't-stay-still-for-five-minutes toddler, and it was just the perfect space – she could happily run around both inside and outside, and spent a lot of time chasing and watching the chickens. But though it's ideal for families, there's a real intimacy to the tents, and a seclusion offered by their position, that makes them perfect for honeymooners looking for something a little bit different. And there's undoubtedly something incredibly romantic about the slower pace of life that the tents inspire – the sense of getting away from the trappings of modern life and spending your evenings by the flickering light of candles. We left Lantern & Larks feeling a thousand times lighter and happier than we had when we'd arrived, and vowing to return as soon as we could.
In a nutshell:
We loved: The large, comfy bed; the beautiful setting; the well-equipped kitchen.
We weren't so keen on: Leaving.
Ideal if you want: A quirky – but romantic – UK honeymoon.
Need to know:
Lantern & Larks, Sweffling Hall Farm, Suffolk, UK. (Note, there's also another Lantern & Larks site in Lancashire.)
Rates: from £275 for four nights.
Nearest airport: London Stanstead.