I am in desperate need of a work space that is not the dining room table.  Not that I so much mind it, there just is not much privacy.  Plus it isn't ideal for photographing makeup.   I've been working on figuring out what style I want to go with, and it has been a challenge because I love a wide variety of designs and styles.  I don't fit into just one mold. While that is a great thing, it can make decisions like this a little tricky.  This workspace is actually going to be in my closet. While my closet is a really great size, it is all about optimizing space. And fortunately lighting won't be a huge issue since I have a good size window in there. I swear I don't live in a mansion, my house isn't that big and my room isn't the master. I just got very lucky.  I thought it would be fun to share a few things I love.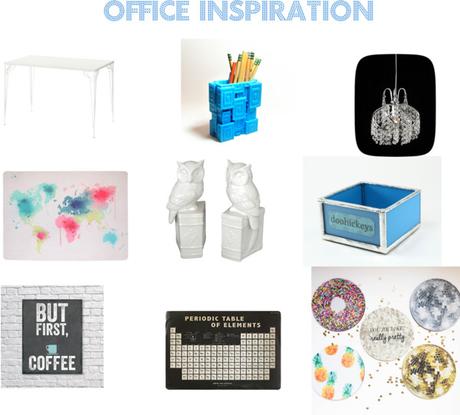 Office Inspiration by kristen-noel-williford featuring handmade home decor


Ceramic bookend
target.com




Office accessory
etsy.com




Glass home decor
etsy.com




Handmade home decor
etsy.com




Home decor
etsy.com




Crystal jewelry
overstock.com




a1 desk mat
cottonon.com




FALKHÖJDEN
ikea.com




laptop decal 13 inch
cottonon.com



Obviously, the first thing I need is a desk.  I can't have one that is too big and bulky, so this simple white table from Ikea is perfect.  At least it will be if it isn't too wide. *fingers crossed* I love the intricate detail around the legs because it makes it feel more feminine and it gives the piece some interest.
Since I would prefer a white table to keep things light and airy, I really need something to set down when I am handling makeup. Stains are not welcome. Enter this beautiful a1 desk mat from Cotton On for $40. Although I would be scared to mess that up, too.  The colors are stunning and I like the map design on it. If you have not heard of Cotton On, check it out. They have really cute stuff.
I adore owls, so these bookends are an absolute must.  They would be perfect to keep magazines organized, or just sitting there and being cute.  These bookends are from Target and are made by Drew Derose.
I would really love to have a small crystal chandelier, too. Obviously a touch of glitz and glam is going to be a must.  It will add a little bit of glamour to what will probably be a whimsical space.  This particular one is on Overstock.com and is $74.
I don't why, but I love this desk organizer that says "Doohickeys" on it.  I would likely use this to store products I want to review and photograph. I love the shade of blue, too.  I found this on Etsy and it costs $25.
Since I love coffee, a "But First, Coffee" picture needs to grace my wall.  If only it could actually make an amazing cup of joe to save me from venturing out into the kitchen.  In fact, I need a cup right now. Brb....
This lab top decal featuring the Periodic Table is perfect for the science nerd deep inside me.  Even though I mostly hated my chemistry classes in college (I'm a Biology person), I still appreciate it. Cotton On sells this decal for $15 and it is for 13 inch laptops.
I don't even have a mouse, but these adorable, round mouse pads make me want to get one.  How cute are they?  The only downside is choosing which one to get.  You really cannot go wrong with sprinkled doughnuts, though.  They are $12 from Etsy.



Oh, and we cannot forget a geometric, fun pen holder. Sure, I could use a coffee mug. But everyone does that. I want my workspace to feel fun and unique.  Just like this 3-D printed holder.  This is also from Etsy and it is $30.  





I am also waiting for my first delivery from Morphe Brushes, and the anticipation is killing me.  I will be doing a first impressions post along with some swatches when they finally get here. Which I hope will be soon.




Have a great Saturday!