Happy Wednesday Folks! Let's talk about something I love! Effective and gorgeous natural beauty products! I can't tell you how many times I have bought products at Whole Foods, Trader Joes, or the weird Herbal Medicine place near my house that have been so crappy that I throw them away after one use. I don't know what it is. They smells weird, expire immediately after you open them or don't work. All natural face moisturizers I have tried make me look like I have slathered my face in Crisco. Not a good look.
So I have been totally surprised and blown away by the constant stream of natural beauty products I have been reviewing lately. All of them have been AMAZING and totally effective. I have discovered so many new favorite products and brands but HollyBeth Natural Luxury holds a special place in my heart. Her product line has me swooning so hard. From the gorgeous packaging to the delightful formulas to the fact that her products are whipped up by hand in the South, I love everything about this collection. My Mother's family is from the South and I still have family in Georgia, the great state where HollyBeth cooks up her creations. So without further adieu, meet HollyBeth Natural Luxury.
When HollyBeth was a kid, her Grandmother would take her on nature walks and point various plants and flowers, and teach young HollyBeth about their holistic healing powers. Years later, she took the knowledge that her Grandmother taught her and dug up some tried but true family recipes, and started cooking up her all natural line in a old cotton warehouse in Atlanta Georgia. Oh and did I mention that she makes everything by hand?! That is downright impressive in my opinion!
I originally found out about HollyBeth through my Green Grab Bag experience. Her fabulous eye cream was one of the products in my bag. Shortly after testing out her eye cream, I contacted HollyBeth and to my delight, she sent me some of her lovely products to review. Here is what I received: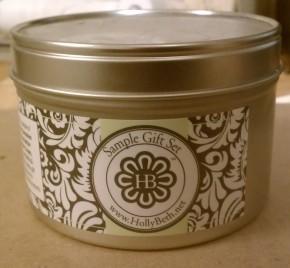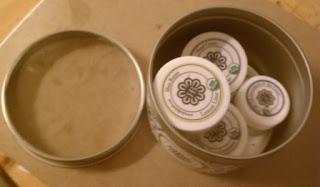 The first thing I am going to talk about is the super indulgent Sampler Set. For a mere $25.00 you get pretty generous sample sizes of HollyBeth's best stuff. Included inside the adorable (and reusable!) tin is the Rose Geranium Face Moisturizer, Lemon Lime Shea Butter Cream, Lavender Hand Cream, Eye Cream and the Grits & Honey Scrub. This was the perfect way to try out all that HollyBeth has to offer. If you are new to HollyBeth, I highly suggest starting with this.
The Eye Cream: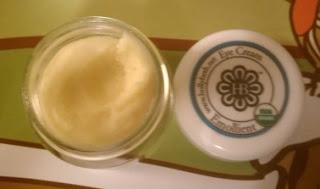 HollyBeth's eye cream is rich and emollient. Formulated with Vitamin E, Sweet Almond Oil, Beeswax and Camellia Seed Oil, it works hard to moisturize your delicate eye area. I used this eye cream only at night because I did feel like it was too heavy for day use. The cream spread evenly and really hydrated my eye area. I really love this eye cream and I am looking forward to continued use.
Rose Geranium Face Moisturizer: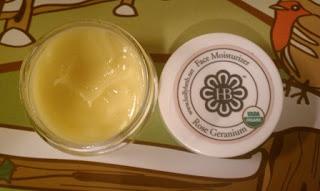 This super rich facial moisturizer starts with a beeswax base. Then camellia, jojoba and Vitamin E is blended in. Vitamin E's antioxidant effects ward off environmental toxins and diminish the signs of aging. The cream is also infused with sea buckthorn, sweet almond oil and rose and geranium oils.
The Rose Geranium Face Moisturizer smells heavenly. The nourishing cream is super hydrating and perfect for my dry skin. Also, this cream is highly recommended for folks with sensitive skin or rosacea sufferers. I love slathering this on at night. The soothing scent relaxes me and my face drinks up the moisturizer leaving me all glowy by morning.
Grits and Honey Scrub: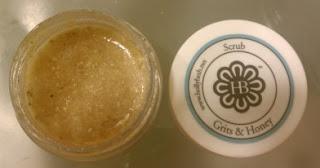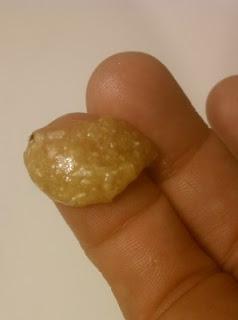 If you love honey, you will die for this scrub. I am in love with it! I love the clever southern name! Grits are delicious, honey is delicious. Can't go wrong. And here is the ingredient list: corn kernal meal, honey, sweet almond oil and Vitamin E. THAT'S IT!! Amazing right? It smells like honey (duh) and exfoliates like no ones business. In a very gentle way though. And honey is a fantastic all natural solution to a slew of skin problems. It helps skin retain moisture, helps clear up acne, and it is rich in vitamins. My skin is so rosy and soft after using this scrub and I am most definitely going to purchase the full size!
Lavender Hand Cream: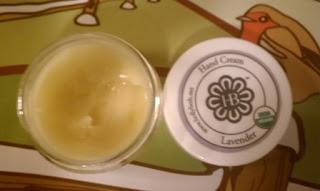 Sweetly fragranced with Lavender and formulated with sweet almond oil and Vitamin E, HollyBeth's Lavender Hand Cream will soothe and smooth your hands. I have been using this hand cream before bed and seriously look forward to slathering it on everyday. It smells gorgeous, like real lavender and it puts me at ease and lulls me to sleep. The cream itself absorbs quickly and leaves my hands super soft!
Lemon Lime Shea Butter Cream: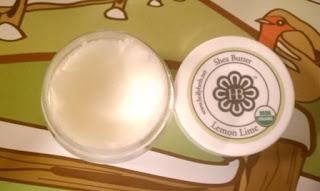 The Lemon Lime Shea Butter Cream is exactly that. Shea Butter blended with lemon and lime oils. It smells so bright and happy! (Yes, a fragrance can be happy!) It is really thick and dense and I love using it on my hands at work. You only need to take out the smallest amount. When you rub your hands together, the Shea Butter warms up and spreads easily. It absorbs wells and really hydrates. I have also used this on my feet at night (made my tootsies super soft!) and as a massage cream when giving my sweet husband a back massage. (Lucky guy, I know.)
So that wraps up what was in the Sampler Set. Now let's move on to the individual products HollyBeth sent me.
Flourish Perfume: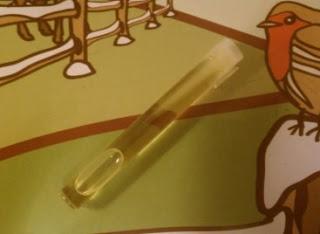 Flourish Perfume is formulated using jojoba and Vitamin E, rose absolute oil, jasmine absolute oil and an exclusive blend of certified organic essential oils. It smells floral and heady. It is a dead sexy perfume and even though usually florals make me cringe, Flourish has a note or two in it (that I cannot figure out) that takes the edge off of the floweriness for me. I love it!
Butterfly Lip Nectar: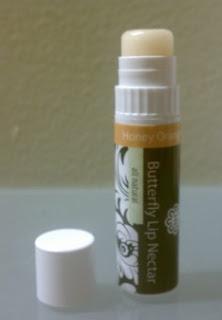 Seriously. How adorable is this name and packaging? I am a lip balm addict and this has not left my side since I received it. I LOVE IT! The word obsessed comes to mind. It smells good, looks good and is effective. The beeswax base contains a lovely mix of orange and mint essential oils, Vitamin E and aloe vera. The balm is refreshing and moisturizing. I will never be without this again.
Citrus All Over Cream: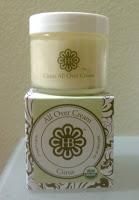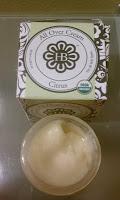 This energizing cream is fragranced with lemon, orange, bergmont and litsea. The super rich cream will works hard to moisturize your driest skin. Feet, cuticles and elbows will all be hydrated. Smooth over legs for gorgeous, gleamy gams. Smooth down pesky flyaways. This multi-tasker will do it all and has not left my purse since arriving at my doorstep. A must have for busy beauties who need their products to be superstars!
I LOVE everything that HollyBeth sent me. I also love her history and her choice to remain 100% natural. This is a green brand I can totally get behind and I hope you will too!
HollyBeth, if you are reading this, thank you so much! I wish you and your amazing company nothing but luck and success in the future!
HollyBeth's beautiful and incredibly effictive skin and body products can be purchased online at http://www.hollybeth.net/ Visit HollyBeth's Facebook page to keep yourself in the know!
So....What do you think? Gorgeous right?