Here are a couple of delicious recipes for healthy kids snacks using vegetables that you can find in your garden or at your local farmers market right now. They are from Heidi Diller, registered dietician and nutritionist for Albertsons.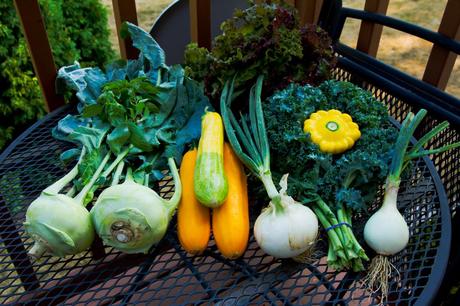 Oven Baked Zucchini Fries
3 medium zucchini (1 pound)
1 packet Shake and Bake™ Coating mix (found in the baking section of grocery store)
1/4 cup Parmesan Cheese, grated
1 egg
Preheat oven to 450 degrees F. Spray vegetable oil on a large baking sheet and set aside.
Cut the zucchini into 1/4 inch thick, 4 inch slices
Set aside two bowls. In one bowl whisk the egg. In the other bowl combine the "shake and bake" coating and the Parmesan cheese.
Dip the zucchini slices in the egg a few pieces at a time and then coat in the crumb mixture. Spread evenly onto the baking sheet. Repeat with the remaining zucchini.
Bake for 13 minutes until golden brown. Then remove from oven and serve hot with your favorite dipping sauce.
Crispy Kale Chips
1 bunch of Kale
1-2 Tablespoons of Olive Oil (or grape seed oil)
Sea Salt
Preheat oven to 350 (you can turn it a little higher if you use grape seed oil) 
Wash the kale thoroughly and cut out the center core.  Dry and remove any excess water.
Tear the kale leaves into chip-sized pieces and toss them with olive oil. 
Place the leaves on a parchment paper-covered baking tray.
Bake for 12-20 minutes until crisp making sure the leaves stay green.
Sprinkle with sea salt and enjoy!
For more information about Heidi, please see the Albertsons website.