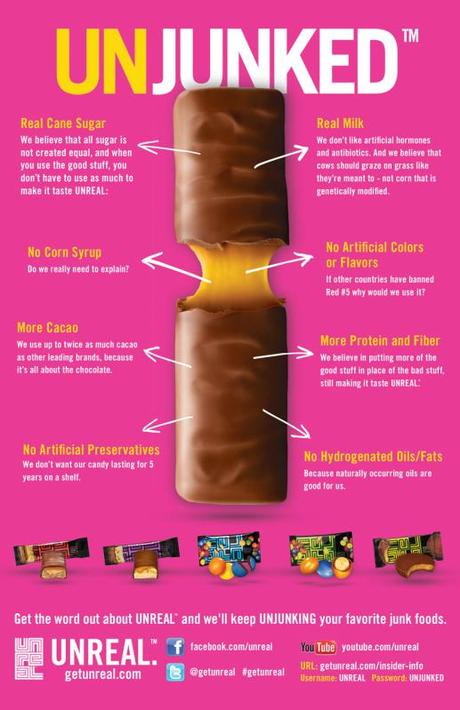 Healthy Junk Food! OK, maybe not healthy, but definitely NOT full of all that bad stuff. Instead it is UNREAL Candy. I'm very excited to tell you about the UNREAL campaign. UNREAL is Candy Unjunked.
The UNREAL Mission: We believe that all junk food can be made differently, with better ingredients, without the junk, with great taste, and at the same price.
UNREAL is an idea that I can fully endorse and I'm so proud to have the chance to tell you about them. I have been reading all about UNREAL candy and I have to say the folks there have actually made me mist up. I LOVE their mission, because I really believe that we need to Unjunk our food if we are to survive. And here is a company doing just that. They are making delicious candy that is free of GMO's, partially hydrogenated oils, corn syrup, artificial colors, flavors and preservatives. The dairy they use is from pastured cows! I know, this is truly a dream come true.
I received a box of UNREAL candy including UNREAL 77 peanut butter cups, UNREAL 5 Chocolate Caramel Nougat Bar, UNREAL 8 Chocolate Peanut Caramel Nougat Bar, UNREAL 41 Candy Coated Chocolates and UNREAL 54 Candy Coated Chocolates with Peanuts. The first thing I noticed when I opened the box was the fact that t e UNREAL Candy is packaged in rather cool, slightly techno designs. They are eye catching. These will stand out on the shelf, and that is exactly what we want. I hope that any child (or adult for that matter) that was planning on purchasing candy would be attracted to this package and grab an UNREAL candy before they took a more well known national brand.
UNREAL candies are made with real cane sugar, not Corn Syrup! And because they use REAL sugar they don't need to use as much of it. One of their candies has 48% LESS sugar than it's national counterpart, and it tastes GREAT. It happens to be one of my favorites from the bunch. UNREAL uses more Cacao than the other leading brands, "because it is all about the chocolate." They don't use artificial preservatives and no artificial colors. In fact their colors on their candy coated chocolates comes from natural ingredients like beets, cabbage, turmeric and achiote tree seed. UNREAL Candy even has more protein and fiber because they want more of the good stuff in place of the bad stuff! I LOVE this company and these candies. In two of their bars they have raised the dietary fiber compared to the other leading brands by 400%!
I urge you to join UNREAL connecting with them on Facebook, YouTube,  Twitter @getunreal #getunreal and on their website. You can already purchase UNREAL for the same price as the other leading brands at stores such as Kroger, Rite Aid, CVS, Michael's, Walgreens and Staples. And look for them coming soon at BJ's and Target. I would love to see them everywhere. Wouldn't you?
I was provided with a sampler box of UNREAL Candy for this review, but the ideas are my own. I really did enjoy UNREAL Candy, I really like their Mission and I look forward to buying their products. I hope they have something wonderful in store for Halloween!