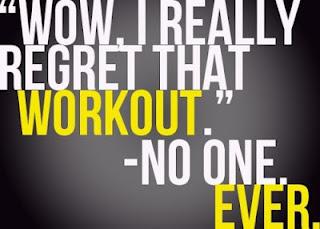 Hello from Halifax,
I hope everyone is having an amazing night. I had a pretty sweet day and it has ended in a really great note. First of all, I know it was as hot as an oven today in Ontario, while it was  a cool and glorious 18 degrees here right now...I know pretty amazing, huh?
I definitely wasn't planning a workout today, I had an early flight and a pretty long day. We are opening a GoodLife Fitness Club in Sackville (which is just outside of Halifax) in September, so this is the time where we are setting up for our presales campaign, promoting the new club in the community, creating awareness and encouraging people to get started with their fitness goals.
I planned the best I could for the long day. It is really hard to bring your own food when you travel, especially flying. Sometimes at airport security they make me throw out almond butter and greek yogurt but they let me keep hummus or vice versa. It's a bit of a gamble, so I usually just play it safe these days and travel with legit solids. I wasn't sure how many servings of vegetables I would eat today, so I made sure to blend up a yummy belly shake loaded with spinach, broccoli, cucumber and veggie greens (and eat it in the car on the way to the airport).
Today I had some chicken, nuts, an apple and a lara bar to keep me going until I arrived in Halifax. So I should have been fine. However, my flight was delayed for about 90 minutes because of mechanical issues, so by the time I arrived in Halifax I was suffering from a pretty intense case of the "hungies". It was nothing that a quick stop at Boost Juice wouldn't fix. Of course because I am on the road, Kyle checked in (via text):
Kyle: Hey Tara. How is your trip so far? Send me a picture of your food journal.
Tara: Ok! I sent it to your hotmail...
Kyle: What's the workout situation today?
Tara: 30 minutes of interval cardio (yayayyayayaay!!!!)
Kyle: Go Gus! Have a good breakfast tomorrow and talk to you soon.
As you know, I am back on track with my food journal, so here are the details in all of their glory: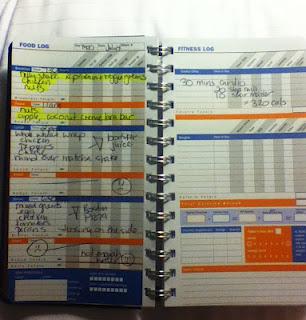 I haven't even gotten to the best part of the day yet. After a long long day of travelling, working, going out for dinner with co-workers the normal thing is to head back to yoru hotel and veg out, right? That was certainly my plan. Until the two best co-workers ever attempted to convince me to come with them to the gym for a quick workout. I said no. Then I said yes. So we went. I did 30 minutes of cardio intervals (20 mins on the step mill & 10 minutes on the stairmaster) and burned 320 calories. That may not seem like very much, but I am 320 calories lighter and not to mention I felt so much better. I got my sweat on and released some much needed endorphins. My happy ending.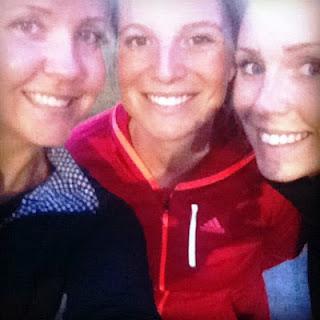 post workout smiles.

I hope everyone that reads my blog always walks away either feeling happy, motivated or inspired in some way shape of form. No matter where you are on your fitness journey, everyone needs some help or motivation at some point. I understand that not everyone is lucky enough to have a personal trainer like I do or have really awesome, motivated co-workers to keep them on track. I am very lucky. I do hope that you will take a look around at the people in your life, whether it's friends, family or co-workers and team up with those pretty cool people to spread the fitness love. Hug your workout buddy.
I am off to book some travel for my team for next week and send of some expense reports as it is year end for our company.
Happy Reading,
Me+