I hope everyone has had a great Holiday season so far. I've been off work a week now and except for working next Monday, then I'll be off the rest of the week after that!! Whoop!
So now is the time when I always revisit my healthy goals. Last night I rented Fat Sick and Nearly Dead Part 2 where Joe Cross revisits some people from his documentary 6 years ago. He also said he has struggled somewhat over the years keeping on the healthy path, but he's back in and visiting people around the country and the power of juicing.
I have a juicer – there are a number of good one's out there – especially these. The first time I juiced something it was NOT good. Let me tell you why.
I always read different combos of making juices. Like adding carrots and apple, celery, fresh greens like spinach and kale. One addition I always heard of was adding fresh ginger. I've rarely worked with fresh ginger, so I had no idea what a pungent taste it is if you put too much in.
My kids were around me as I put all the ingredients and we watched the different colors come out of the juicer, I added a whole thing of ginger. I stirred up the juice and poured them into cups for us all to try. OMG – the ginger made it so super spicy we all spit it out in the sink! Note to self – a little goes a LONG way so don't make that mistake I made.
My next juices have turned out much better. In fact I have found that I like juicing some veggies I normally don't even like, such as beets! I don't care for beets in general, but juicing them is delicious!
Print Beet juice
Ingredients
1 beet
2 apples
4 carrots
Instructions
For this recipe, all I did was wash all the vegetables really well. I don't peel the beet, or take the stems off, I don't even cut the ends off of the carrots - just throw everything in!
Schema/Recipe SEO Data Markup by ZipList Recipe Plugin2.2
http://www.slim-shoppin.com/happy-almost-new-year/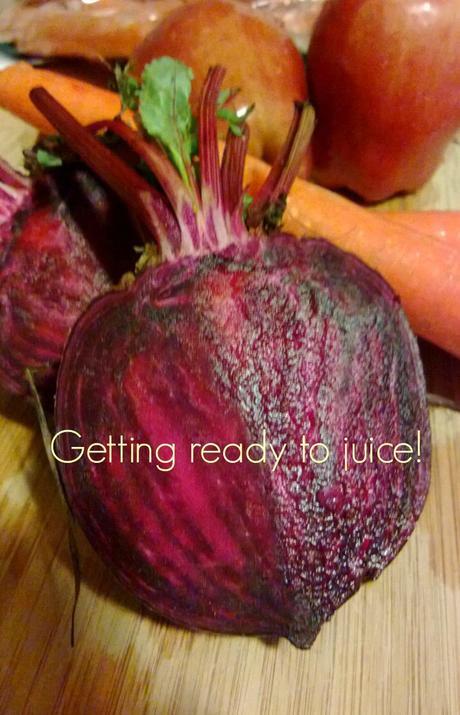 So part of my new year is to get juicing again and come up with some great new flavors and combos!
Have you juiced before? Do you keep it up, or just juice now and then?