Hi there friends!
Today is a fun day on the blog because I'm sharing our engagement story!  I wanted to do a Q & A session regarding our engagement so it's not just me babbling on about what happened.  If you have more questions, please feel free to drop them in the comments and I'll make sure they get answered.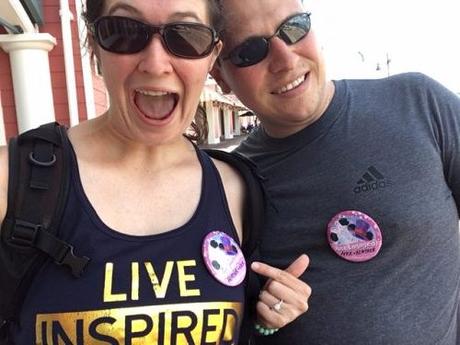 Where did you get engaged?
DISNEY WORLD!  Yes, no surprise there!  We had been planning a trip to Disney for a few months and it was the perfect place for us to get engaged because Disney has been such a huge part of our relationship over the years.
When did you get engaged?
We got engaged in May!  We were trying to fit in a trip before all the schools were out and Disney got crowded and overheated.  More specifically: Wednesday, May 17th, 2017.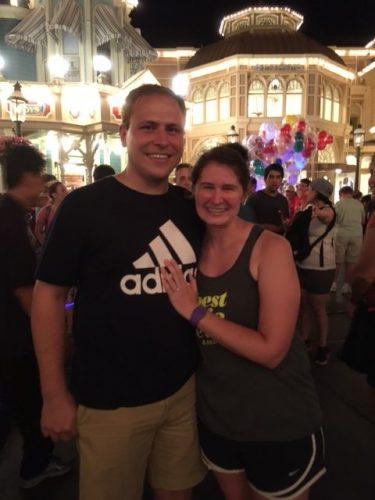 Were you surprised?
I know this will come as a surprise to some of you or you'll say that I'm lying, but I honestly was surprised IN THE MOMENT.  I knew there was a possibility as we were planning the trip and I knew that Disney would be a great place for us to get engaged, but Nick is the best secret-keeper I know.  He did not provide me with any hints leading up to Disney; however, I knew he wouldn't so I still thought there was a chance.  Our trip was Friday-Friday and our trip was almost over by Wednesday.  I literally told myself multiple times that day that it was OKAY that we were not getting engaged.  Nick wasn't acting weird or nervous or anything!  By Wednesday, I was certain it wasn't going to happen… and then it did, later that night!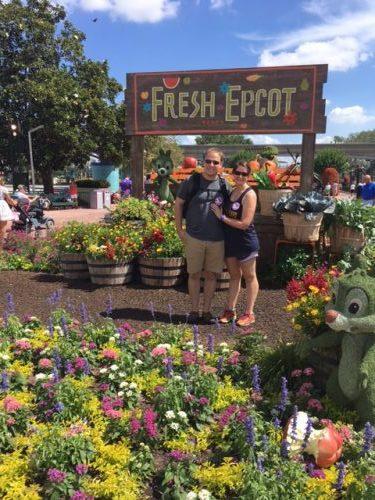 How did he propose?
We had plans to watch the new fire works show at Magic Kingdom on Wednesday night.  The previous show was called "Wishes" and they had literally started the brand new show the week we arrived called "Happily Ever After!"  We arrived to Magic Kingdom just in time for the show and found a spot on Main Street.  It was a lengthy show and there was a lull in the middle that we both assumed was the end.  He was planning to propose at the end of the show.  I was standing in front of him and was turning around to say how great the show was and there he was on one knee.  I said "Are you serious?" a few times and finally responded "YES!"  At that point, we realized that it was in fact NOT the end of the show.  We finished up the show and then I started asking a bazillion questions!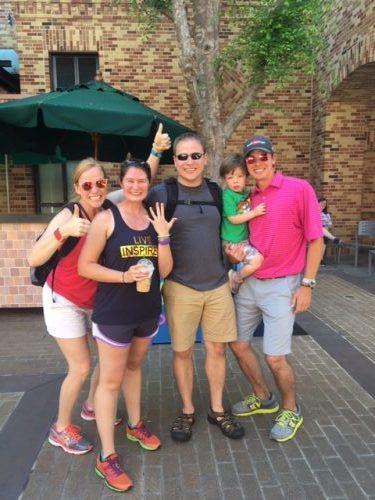 Who did you tell first?
Well, Nick's brother & sister-in-law were in Orlando with us that night so when we saw them again the next morning, they were the first people we told.  At that point, I called my sisters to tell them and then waited to tell anyone else until later that day.  My parents were both working so I called them that evening and then we spent the rest of the evening calling important people in our lives.
When are you getting married?
We are getting married in February, so that gives us about 9 months to plan a wedding!  After being together for almost TEN years, we didn't want a long engagement, but I also wanted to be realistic about how long it would take me to plan a budget friendly well executed wedding.
What are some favorite experiences post-engagement?
On our drive back home, we stopped at Trey & Kathyrn's.  They had a cake, champagne, and a wedding magazine waiting for us.  It was the first "celebration" we experience post-engagement.
Our engagement party was perfectly Disney themed and I could not have imagined a more perfect engagement party than what our dear friends provided us.
Having my cousin in town was extra special to me.  We worked on wedding stuff, she helped me through some emotional struggles (that later proved to be a thyroid issue that I have corrected), and she met a lot of my friends and Nick's family.  It meant so much to me that she drove to Mississippi to visit for a few days!
All the little conversations that Nick and I have about wedding plans or post-wedding items that we need to do!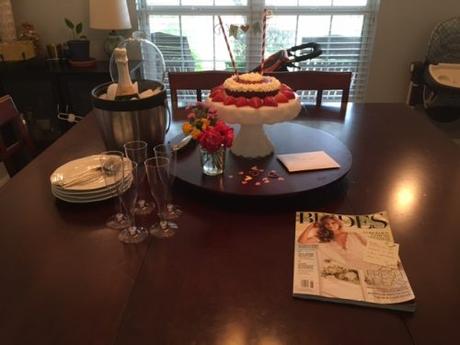 What about the RING??!!
I have a beautiful Square Halo wedding ring.  I wear a size 4 which is still slightly big, but apparently you can't order a 3.75?  Or if you do, it's expensive!  I love it though!  I bought a second ring immediately after for Enso.  It's a plum purple thin twisted rubber ring that I can wear for Fun Run days.
What has been your least favorite thing about being engaged?
Hmm… That's a toughy! I think I really struggled during my thyroid issue and it was my least favorite moment up to this point.  Thinking that my anxiety and depression and lack of motivation had something to do with the wedding plans and with Nick took a tole on me.  In my mind, I knew that couldn't be the case, but emotionally, it was eating away at me.  I was so thankful to discover the thyroid issue during a very stressful time so that I could go ahead and get it corrected before things get more hectic.  And honestly, that cleared up a lot of other issues I had been dealing with!
Were you surprised about your engagement?
Who else has gotten engaged at Disney World?
What was your least favorite thing about wedding planning?
Who was the first person you told about your engagement?