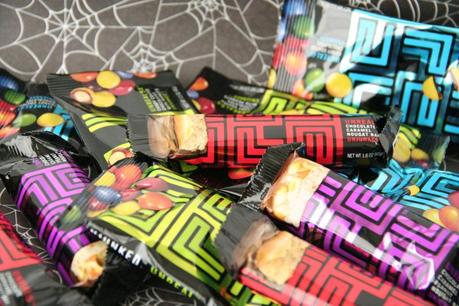 Halloween has got to be my favorite holiday ever! I love dressing up and all the cool decoration, but truth be told I don't love all the "treats". Have you really read what is in your kids' Halloween candy? It scares the *&(%$ out of me. Yes, I'm that mom. The one that inspects everything the kids get and often replaces it with her own "treats". I have to do that anyway since the boy are GFCF, but wouldn't it be nice if one day you opened up your kids trick or treat bag and saw UNREAL candy in there instead of those chemical laden other things?
Well last night my husband checked our front porch just to make sure the delivery guy didn't leave anything out there without ringing our bell, and low and behold, there was a package. It was a great big box of UNREAL Halloween treats for us. I was so stoked because I really like UNREAL. I love their idea of removing all that artificial stuff from their products such as GMOs, Corn Syrup and Hydrogenated stuff. They use REAL ingredients and then they put those products in accessible stores so everyone can get them. So everyone has a choice. They keep them at the same price point as all those other candy companies, but they don't rely on junk to make their products. Instead they make them with REAL ingredients and then they do crazy stuff like make them higher in fiber too.
So UNREAL is going to be what we are handing out this year. How about you? Do you think you can make the choice to hand out candy that is made with REAL ingredients? Maybe you can choose to send UNREAL in for your children's Halloween party? Or just keep UNREAL on hand when you want a candy snack. Wouldn't that make you feel better? I know it makes me a lot happier. I am so proud of UNREAL for doing what they are doing. Showing us that a company can have a heart, can produce yummy candy, have a conscience, AND still stay profitable. I love UNREAL. How about you?
UNREAL sent me a surprise Halloween treat with their compliments.