Ground turkey gets a bad wrap. People think it's so basic, boring and bland. But it's not! Ground turkey is so versatile. Great in soups, chili, as meatloaf and really good as a grilled burger. The key is to not let it get dried out. Adding some great flavors like soy sauce, ginger, and cilantro help.
And it's a great summer meal when you have easy prep, can head outside to grill and enjoy that dinner outside. You barely get your kitchen dirty and I consider that a huge bonus. I served this with a zucchini "pasta" salad that is coming later this week. This was the ultimate summer meal, grilled meats, fresh vegetables from the garden turned into an awesome pasta salad. I love summer eating!
Grilled Turkey Cilantro Burgers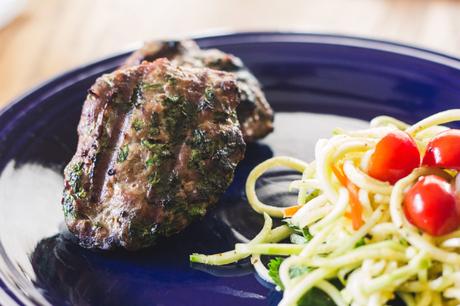 Print
Prep time 10 mins Cook time 10 mins Total time 20 mins   Author:
A Fit and Spicy Life
Serves:
Serves 4
Ingredients
1lb ground turkey
1 tbsp minced ginger
2 tbsp soy sauce
1 tsp sesame oil
1 tbsp sesame seeds
¼ cup chopped cilanto
Instructions
In a large bowl combine ground turkey, ginger, soy sauce, sesame oil, sesame seeds and cilantro.
Form into 4 burgers and grill 3-6 minutes per side depending on how you like your burgers cooked. We did about 5 minutes per side.
3.2.2925