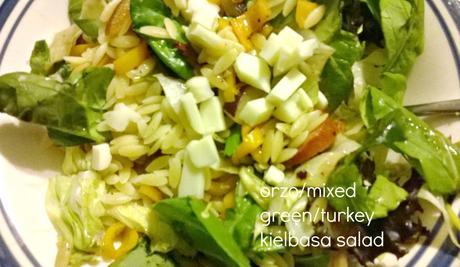 New dish I made up!
I love when I don't really know what I am going to make and it turns out so great! I will definitely make this again.
I frequently buy Jennie-O Turkey Kielbasa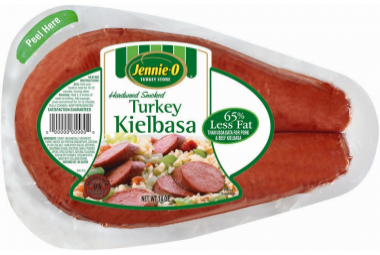 I like using turkey kielbasa because it's low in calories, I can add it to soups, stews, stir fry's, etc…
I wasn't exactly sure what the outcome of this dish would be when I started – I just kind of kept getting ideas and going from there!
I started by slicing up the turkey kielbasa into rounds, and placing those in a skillet. In a separate pot, I cooked a package of orzo. I forgot how much I love orzo!
Once the sausage was starting to brown, I checked to see what veggies I had. I had baby bell peppers and onions, so I chopped up 4 baby peppers and a small onion and added that to the pan.
Once the orzo was cooked – I drained it and returned it to the pot.
My idea was everyone could take a bowl, add some orzo and put some of the cooked peppers, onions and turkey kielbasa on top.
Then I thought I wanted to add something more and I had a bag of mixed greens, so I added that, and diced up some mozzarella cheese and added a few tablespoons of Paul Newman's Lite Balsamic Vinaigrette salad dressing.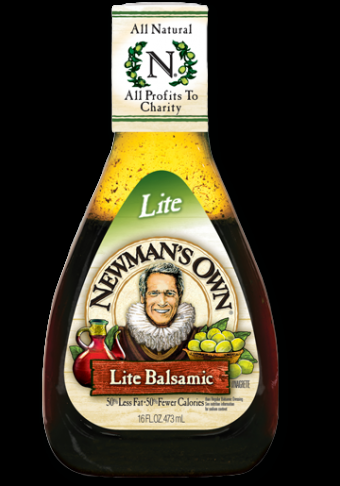 Print Great weeknight dinner – easy and delish!
Ingredients
1 package Jennie-O turkey kielbasa
8 oz. uncooked orzo
1 bag mixed greens
baby bell peppers (about 4-5)
1 small white onion, diced
Paul Newman's Lite Balsamic Salad Dressing
diced mozzarella (optional)
Instructions
The idea is to use one skillet to cook the kielbasa and peppers and onions, and one pot to cook the orzo.
Then everyone can customize their bowls as they like. I started with orzo, topped with the veggies and kielbasa, add the mozzarella and salad dressing and just stir to incorporate all the ingredients
Schema/Recipe SEO Data Markup by ZipList Recipe Plugin2.2http://www.slim-shoppin.com/great-weeknight-dinner-easy-and-delish/
You may have leftover orzo – I did, which I will find some place to incorporate it. I may add it to some soup I am making soon!
What are some of your favorite meals you made on the fly?