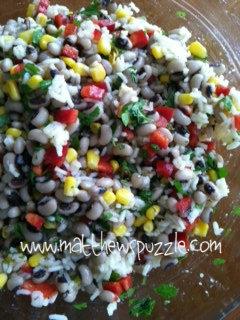 Wendi's Zesty Black-Eyed Peas Salad from Great Gluten-Free Vegan Eats
Being Gluten Free is always a challenge. Recently, we decided to try a new protocol with Matthew which required that we move to a GFCFSFSF diet! Yikes. You read that correctly, gluten free, casein free, soy free and sugar free. How the heck do I do that? Not prettily, I must say. Not prettily at all.
I started by verifying that his bread is OK, and that natural peanut butter is fine. Thank goodness, since that is all the kid wants for lunch, although I did have to remove his jelly. Too much sugar. But the bad part was that many of my old standby recipes were being rejected. He has gotten really picky lately and says he doesn't like beef anymore. He also says he doesn't like ham or many of the chicken dishes we eat. What the heck am I gonna do? These were what I always fell back on, and now he was refusing them.
So there I was again, looking for some new recipes. That is when I got the book Great Gluten-Free Vegan Eats to check out. Even though we aren't vegan in our home, this was a great find. Since it was gluten free it was a great jumping off point. And because it was Vegan I knew I didn't have to worry about casein or dairy. That made it easy. The only thing that wasn't covered is that the book is not soy or sugar free, but many of the recipes naturally are both.
I was immediately drawn to the Wendi's Zesty Black-Eyed Pea Salad, with it's brown rice and peas, cilantro and apple cider vinegar. These are all flavors I love, but best of all, so does Matthew. Luckily he really enjoyed this dish and actually ate leftover for breakfast one morning. Next I tried the Mediterranean Croquettes. I have to admit these were not a big hit, but in all fairness I had to make a few changes to the recipe and I think that impacted the final product. Matthew does not like olives so I left the kalamata olives out of the recipe, and I think that was a BIG mistake. The croquettes really needed the brininess of the olives to balance the other flavors. One of the most interesting dishes in the book is the Cinnamon Roasted Cauliflower. This sounded so strange I had to try it. Author Allyson Kramer writes:
This dish is my husband's absolute favorite. Its light cinnamon flavor and crunchy cornmeal exterior make for an elegant, easy, and unexpected side.
I couldn't agree more. I loved these. The recipe says to serve immediately and I do think that is true. I ate a few right out of the oven and they were wonderful, as they cooled the texture softened a bit, and I found I preferred them on the crispy side.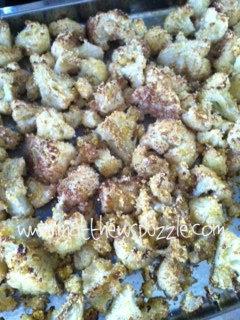 Cinnamon Roasted Cauliflower from Great Gluten-Free Vegan Eats
Lastly I used this book for some last minute breakfast inspiration. My guys love pancakes for breakfast but our GF pancake mix is full of sugar and we just can't have it any more. So I opened Great Gluten-Free Vegan Eats to the Apple Cinnamon Blintzes and noticed it only contained 3 tablespoons of sugar. I quickly glanced over the ingredients and realized I just didn't have everything I needed but I could improvise and substitute. I ended up making banana and cinnamon filled crepes using the basic method outlined in the book.
I'm so glad I had a chance to enjoy this book and I'm pretty sure I'll be using many of the other recipes it contains such as Simple Homemade Pasta, Bizquix (an all-purpose baking mix recipe!), Blueberry Avocado Salsa, Pizza Crackers, and Baked Corn Pudding (which might be like spoon bread, thank the good Lord).
I received a copy of Great Gluten-Free Vegan Eats free of charge to review. All opinions are my own.